Harper Lee's well-loved American classic and Pulitzer Prize-winning novel sees racial prejudice within the fictional small-town community of Maycomb, Alabama. It is home to Scout Finch (Jasmin De Goede), an intelligent tom-boy, her older brother Jem (Che Tligui), Dill (Adam Crompton), a neighbour, and their widowed father, Atticus Finch (Rob Edwards), a prominent young lawyer.
To put the play into some historical context, Harper Lee was born in Monroeville, Alabama, a sleepy small town similar to Maycomb, with Lee's father also being a lawyer like Atticus Finch, and Dill's character being inspired by her childhood friend, Truman Capote. The trial that stands at the heart of the play is influenced by the infamous Scottsboro trials, where nine young black men were accused of raping two white women on a train near Scottsboro.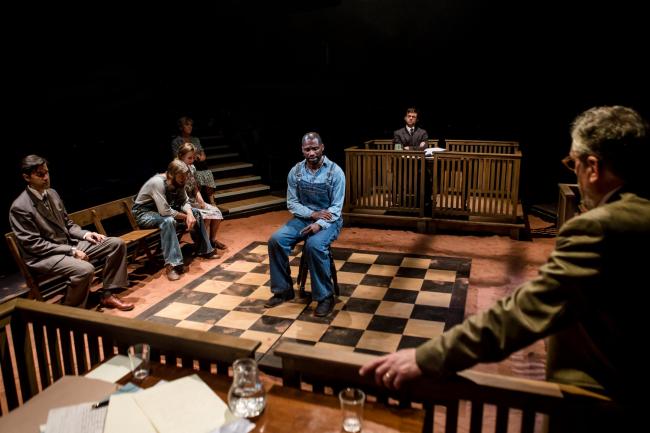 At the start of the play, Scout, Jem and Dill start to tease their reclusive neighbour 'Boo' Radley. Atticus Finch puts a stop to their antics, not by telling them what to say or do, but by encouraging them to try and understand a person by considering things from their point of view.
The play's main focus is on Atticus Finch agreeing to defend a black man named Tom Robinson (Marc Small), who has been accused of raping a white woman, Mayella Ewell (Leila Mimmack), the subsequent trial and decision of the all-white jury, which changes their lives forever.
To Kill A Mockingbird isn't only concerned with race, racial prejudice or injustice. It's also about compassion, tolerance and having consideration for others. The loss of innocence is also a theme that runs through the play. The children start off naïve and innocent, but by the end, this is replaced by an understanding of the importance of viewing life from within someone else's skin and to understand that we are all equal.
This is a spellbinding and engrossing production of a classic play which is as relevant today as when the original novel was written. The high quality of acting and strength of storytelling makes this play an absolute must see. The cast are uniformly strong, with special credit to Jasmine De Goede, who plays a mature and confident Scout and Leila Mimmack, whose gut-wrenching and pitch-perfect performance leaves a long-lasting impression. The entire cast incite thought-provoking emotions, and at times, because of the subject matter, an unnerving evening.
We are reminded that the play's themes of racial pre-justice are not something of the past. The racial discrimination that runs through the play's community and legal organisation; a system which was designed to handle justice, is completely dependent on the people within it and this same system is still evident in today's America.
It is always a pleasure to visit this theatre, which must have the friendliest and nicest team in any playhouse in the North West.
To Kill a Mockingbird is on at the Octagon Theatre until Saturday, October 15.
Reviewer: Mike Neary
Reviewed: 12th September 2016
North West End Rating: ★★★★