Hetty Feather originated as a book by best-selling author, Jacqueline Wilson. The stage production resulted from two chance meetings by Jacqueline: Firstly with Rhiann Harris the then director of the Foundling Museum in London, who suggested she write a story about a fledgling; Then with Mark Bentley who asked whether he could produce the stage version of the book.
Hetty Feather was nominated for the Oliver Awards last year, and was a huge hit, with six weeks in the West end and a UK tour, and now has finally landed in Salford's Lowry theatre. Its story is about a young girl who is abandoned by her mother at the Foundling Hospitalas a baby and follows her story as she lives in a foster home before returning to the Foundling Hospital as young child.
Hetty (Phoebe Thomas) was abandoned at the Foundling Hospital as a newborn baby. Children abandoned at the Hospital arefostereduntil the age of five, at that exact age they have to be returned to the hospital to start their education. Hetty spends her early years as a foster child under the care of Peg Cotton (Sarah Goddard). There are several other foster children in her home as well as Peg's own child, Jem (Matt Costain). Saul (Nik Howden), Eliza and Gideon (Gideon) are foundlings. Hetty is a feisty, redheaded child who often gets into trouble but who is generally kind-hearted and loved by the family.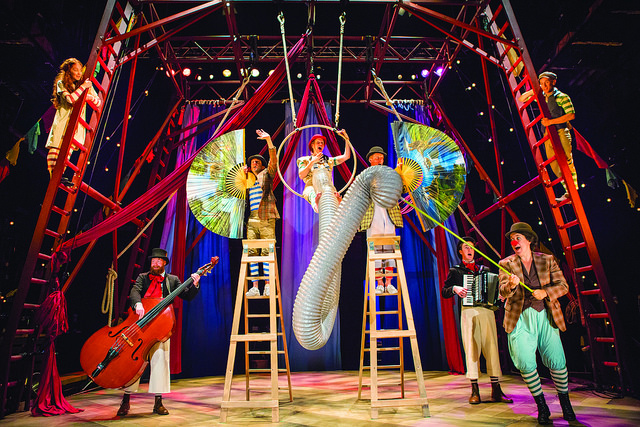 As a poor female orphan in Victorian England Hetty's options are limited, but she never stops striving for fulfilment and aspiring for a better life. Her refusal to be submissive and her actions of standing up to injustices towards her and others are to be celebrated. Hetty is an irrepressible force of nature whose resilience and inner resources enable her to cling to her sense of identity and self-worth in an environment designed to crush her individuality.
The story of Hetty Feather demands that we recognise that young children are important-not just for what they will become, but for what they already are.
This production was an array of spectacular performances that burst into life from the moment the auditorium started to fill. Seamus Carey and Luke Potter both stunning musicians opened the show with their funny duo act of music and encouragement for audience participation.
The staging (credit to Katie Sykes) mainly consisted of a circus type environment that was dominate a huge climbing frame and aerial structure that was used as props throughout the performance. The aerial displays (brilliantly directed by Gwen Hales) of the clearly very talented cast members dominated the stage and demanded attention by their breath-taking agility and grace. The costumes although simple where brilliantly designed to show the authentic style of Victorian times yet allow for the flexibility needed for the performers to move easily.
This show has an appeal for all ages and the auditorium was bursting with a range of ages from primary school children to grandparents, which reflects the versatility of this story as it ability to resonate with all ages. The performers kept the interest and attention of every single audience member, and took us through the whole range of emotions, where we laughed gasped and cried in equal parts.
I can't recommend this show enough as it will definitely entertain all theatre goers and the performance of Hetty (Phoebe Thomas) was endearing and heart-warming, not to mention believable which is a tall order when a grown woman is portraying such a young character. The stand out performance of the night for me was Sarah Goddard who played Peg and Ida; her delivery of the character oozed warmth and love and was astonishingly good.
A brilliant show with an outstandingly talented cast and an amazing production team.
Reviewer: Katie Leicester
Reviewed: 10th December 2015