As Steve Punt's narrator points out The Rocky Horror Show is 43 years old, yet the show's still got legs (shapely stocking clad ones at that!) and entertained a packed Liverpool Empire this evening with its camptastic, sci-fi pastiche. The audience were almost as entertaining as the actors, as spangly Magentas mixed with maiden aunts and Frankenfurters of all shapes and sizes daintily ate ice-cream at the interval in their basques and suspenders.
Liverpool FC supporters are famous for being the '12th man' and tonight the audience felt like an extra cast member, ad-libbing along to the show with panache. Whilst Punt employed all of his stand-up training to control the crowd and keep the slick show in check, a particularly well timed contribution caused Liam Tamne's gorgeously larger than life Frank N Furter to corpse, as he and the rest of the cast descended into laughter. These moments keep the show fresh and have fans of the cult musical returning time and time again to escape to the mad-cap world of Frank N Furter and friends.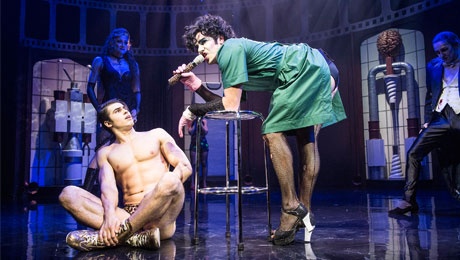 It is strange to think that such a subversive show (this is not one for the faint hearted) feels so comfortable but there is a real warmth to the proceedings, and it feels as if the cast are having as much fun as the audience. It is also great to see a musical where characters are applauded (as soon as the music signals Frank N Furter's entrance the audience go wild!) rather than star names. That said there are some recognisable faces in the company. The straight characters (if you'll pardon the pun!) Brad and Janet are a great role for performers with more star than quality, but Diana Vickers and Ben Freeman prove themselves more than capable and turn in well-judged performances. If perhaps Freeman is not weedy enough for Brad (he gives Dominic Andersen's rippling Rocky a run for his money) and Vickers is sometimes drowned out by the band it is easily forgiven in the midst of such a well-honed production, tied together by Ben Van Tienen's band.
The look of the show perfectly captures the kitsch nostalgia of 1950's America, with its cheery cartoonish flats a striking contrast to Frankenfurter's gothic lair. The set is framed by a swish of celluloid film which, along with the opening number, reminds us of the B movies that Richard O'Brien sought to pay homage to.
Richard O'Brien's Rocky Horror Show will be exciting Liverpool audiences until Saturday so get yourself down to the Empire Theatre to join an audience from all walks of life as they follow Frankenfurter's advice of 'don't dream it be it' and give themselves over to the world's favourite rock'n'roll musical. Tonight's audience were on their feet by the fourth song – a toe-tapping little number called 'The Time Warp' and struggled return to their seats after. If you're a Rocky Horror virgin don't fear as Punt's narrator is on hand to direct you. If in doubt remember; it's just a jump to the left…
Reviewer: Clare Chandler
Reviewed: 1st February 2016