Women on a girl's night out, couples of various ages, large groups of friends, fabulous gay men and even Christopher Maloney from Celebrity Big Brother, filled the sold out Epstein Theatre tonight. Many of them were already 'merry' but everyone was ready for a good night. Raucous laughter and the buzz of the full house surrounded me. We were all waiting for the show to begin. Many of the audience were coming for the second or third time, some had even seen the performers in the Canary Islands or the Costa del Sol. The house lights faded, the announcer, announced and the glittery spectacle began.
Paul Carroll, Paul Burnham and Grant Koper, as their alter-egos Mrs T, Contessa Guapatini and Miss Frankie, took to the stage along with the fabulous Showcase International Dancers - Will, Calum, Anthony and Giles. And so the show began with glitz, glamour, fabulous dancing and lots and lots of energy.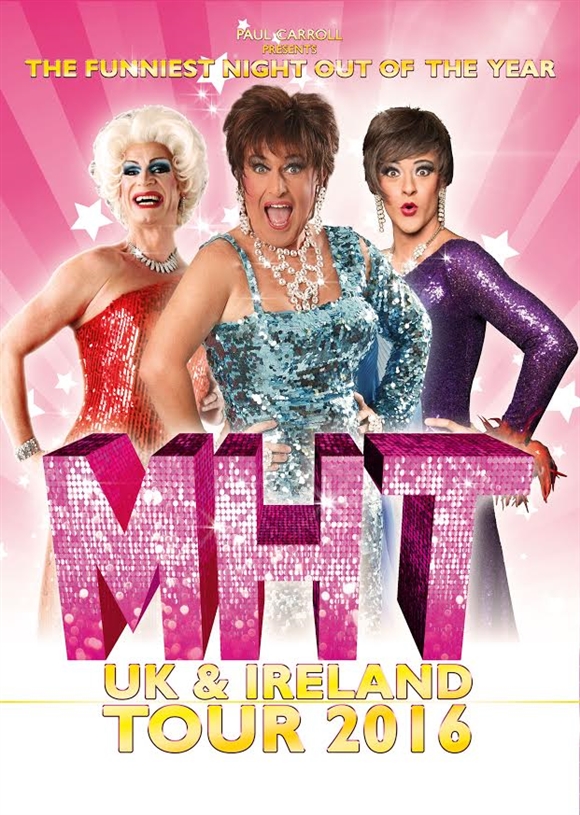 Tonight was billed as "The funniest night out of the year". I can't say it was my funniest night at the theatre but I did enjoy the show. It was an evening of classic cabaret and mirth. All the 'girls' sang with gusto and a great sense of humor. Miss Frankie's version of Memory from Cats was particularly memorable!
At times they lip-synced to tracks. Particular highlights were the whole company recreating the finalé from the film Happy Feet, and Mrs T and Miss Frankie talking on the roles of Freddy Mercury and Montserrat Caballé, singing the 80's classic Barcelona!
The backing dancers were excellent throughout the show, sometimes being the 'straight man' to the comedy and at other times they provided the laughs. Their talent was demonstrated in the excellent "The Lord of the Dance" number - Anthony, who took the lead, was exceptionally good.
It was a show that involved well-known songs from the divas of pop and musical theatre, a multitude of costume changes, high-energy choreography, audience participation and lots of good humor - some of it being a little be naughty.
There was no third-wall this evening and I think that's why so many of the audience have come again and again - it creates a familiarity, a sense of belonging.
It is not an evening I would usually go to but, nevertheless, I thoroughly enjoyed it. The performers captured my interest throughout, they raised a giggle or two and have my upmost respect for their commitment, high energy and sense of fun. I came away with a smile on my face and a song in my heart and we can all do with a bit of that in our lives.
Reviewer: Alan Harbottle
Reviewed: 6th February 2016