Well, back in Blackpool. This time returning to the Opera House at Winter Gardens and returning also to see Mr Joe McElderry!
As widely advertised and amusingly promoted, "Joe Is Joseph!" and what a brilliant job he does as 'Joseph the Dreamer' (or Dreamy!), alongside a great cast of Samantha Noel (in the absence of Lucy Kay) as Narrator - with a powerful and impressive voice - with Emilianos Stamatakis making his incredible UK debut as the authentically Elvis-styled Pharaoh and Judah (who, I have to admit did come close to competing with Joe McElderry in the looks department)! Pharaoh's solo is the showstopper (as oppose to the relatively new odd addition 'King Of My Heart' which he sings straight after, containing lots of Elvis song references) but Joe's presentation of the iconic and poignant 'Close Every Door To Me' was a sure highlight - one of many from the man himself, whose familiar cheeky smile and signature tones made him shine from the offset, even then in shadow from the spotlight that was obscured by drapes hanging from above!
The only other technical aspects to make comment about critically is the single microphone that wasn't on for Narrator, and the case of the inflatable sheep (only one) that couldn't stand up. I guess I could also mention that the giant Tutankhamen head's mouth didn't move in the second half as it did in the first (possibly due to being another, bigger one).
Supported, in song and stage presence, by the wonderful young talents of the (31) children from Michael Hall Theatre School, who were in fine voice throughout, the cast were great, especially those brothers who had solos - Benjamin Beechey as Reuben, Jamie Jukes as Zebulun, Sackie Osakonor as Issacher and their on-stage father Jacob (Henry Metcalfe). The other brothers did tremendously also (Boris Alexander as Dan/Baker, Lewis Asquith as Napthali/Butler, Will Breckin as Simeon, Tom Hier as Levi, George Knapper as Benjamin, Anthony Ray as Gad, Kevin Grogan and Michael Lapham as Asher) acting, singing and in the simple yet effective choreography by Henry. This stands too, for the female dancers/ensemble: Tilly Ford and Gemma Pipe.
During the introduction ('Any Dream Will Do'), after what seemed like the complete run-through of the soundtrack as the overture, we meet Jacob and his sons – in Israel - including his favourite Joseph, sporting Ugg boots. Before they enter in person, as well as seeing the sheep, we see them as dollies (bad joke relating to sheep). We then see the resent of Joseph's brothers and the bullying and torture endured by him - I personally didn't like seeing someone I admire get hurt and got a thrill down my spine each time the 'walking work of art' appeared - maybe just me, or related to his costume which, as with all, were very well chosen and designed.
I found it clever, and a nice touch, that the children, seated content, patient and obediently on the steps that, usually, form part of the set creating a 'V' to rear centre stage where flats would fly in, or the projection of a certain 'floating' tower (no, not that one) appeared during Jacob and his sons' French-influenced 'Those Canaan Days'.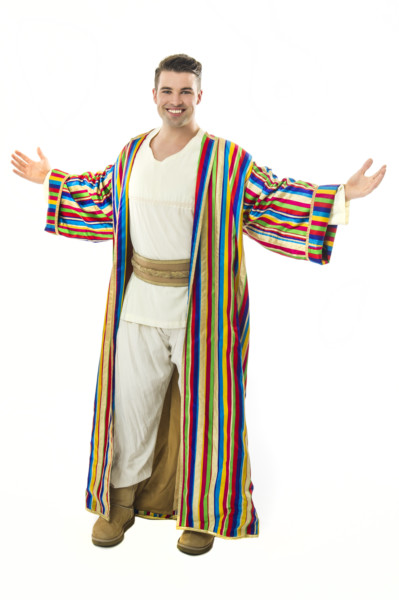 After seeing how they treat him, his brothers sell Joseph to a wealthy captain named Potiphar who imprisons him after his purchase by American Express! (This is where 'Close Every Door' comes and his brothers declare him dead to their father). A Butler and Baker seek explanation of their dreams and, in act two, we hear of the same dilemma of Pharaoh. The Butler informs Pharaoh of Joseph's gift and they ascend to Joseph to explain, mutually through song.
After 'Those Canaan Days' where we see the effects of the famine left by Joseph, his brothers visit Pharaoh in Egypt and unknowingly meet Joseph as the 'Son of the King' and beg for his help to feed themselves and their father. They 'Grovel' and Joseph tests them by giving them all sacks of food, except he gives Benjamin one with a 'stolen gold glass' in it and accuses him a thief. The brothers come to his defence and rather than persecuting them, Joseph realises that they have become honest men and reveals himself before returning to his father, with them.
We conclude the show with the family reunion and a finale of 'Any Dream Will Do', 'Give Me My Coloured Coat' for The Big Reveal, before Joe reprises 'Close Every Door To Me'. All songs are sung beautifully with perfect harmonies, under the direction of Kelvin Towse, who leads the Joseph band.
This colourful presentation is very well-lit and includes costumes such as sparkle, pink and black gowns, tropical calypso shoulder ruffles and references to 'the gayest the Bible has seen' among others elsewhere (even "Benjamin is as straight as the tall palm tree") and so you may ask "how it could get any more camp?"…well, 'Go, Go, Go Joseph' and see for yourself!
Joseph was originally presented as a 15-minute pop vocal composition with an instrumental accompaniment and choir, at a school in London in 1968 and was recorded as a concept album in 1969, it then began stage presentations in 1970 and expanded recordings in 1971 and 1972. While still in development the musical was produced in the West End in 1973, and in its full format was recorded in 1974 and opened on Broadway in 1982. Several major revivals and a straight-to-video film, starring Donny Osmond, followed in 1999 with Richard Attenborough as Jacob, Maria Friedman as Narrator, Joan Collins as Mrs Potiphar and Christopher Biggins as Baker. A US production has been running every year since 1995 and here in the UK, former Boyzone singer Stephen Gately starred in a 'modest' version that previewed in Oxford in December 2002, before moving to Liverpool at Christmas, reaching the West End at the New London Theatre in March 2003.
A revival of the London Palladium production at the Adelphi Theatre was the subject of BBC One's second search for a West End star in 2007 and Lee Mead won the competition. Mead left the show in January 2009 and was replaced by Gareth Gates. The production closed in May 2009. The long-running touring production was re-cast in 2010 with Mead's 'Any Dream Will Do' colleague Keith Jack playing the role before leaving in 2013 making way for Steps singer Ian 'H' Watkins. X-Factor's Lloyd Daniels then took on the iconic role and Danielle Hope, of 'BBC's Over The Rainbow' fame played Narrator for the whole of 2014. On the 10th December 2013, Lord Andrew Lloyd Webber confirmed that he had signed off a new film version of Joseph.
This simple classic will never get old!
Reviewer: Chris Oatway
Reviewed: 9th February 2016