As the sequel to 'Two' by Jim Cartwright began we were welcomed back into the pub by our landlord and landlady as if we'd never left. However, the cobwebs on the glasses hanging from the ceiling designed by Ciaran Bagnall and updated music designed by Andy Smith told us we've moved on drastically from the last time we visited. Unfortunately for our two main characters the pub hasn't quite kept up to date and the lack of customers and therefore lack of money is starting to take a toll on their relationship.
After the run of 'Two' at the Bolton Octagon Theatre the world premiere of 'Two' 2 doesn't disappoint. Following the same structure as the former, two actors playing the landlord (Colin Connor) and landlady (Katy Cavanagh) also play all the customers in the pub. However, compared to the original this performance is much more interactive, if you do not want to participate in the action I suggest you book a seat further up in the theatre. From a safe distance away I enjoyed the front row being asked questions but I was able to join in with the whole theatre as we clapped along as two brave souls from the audience took to the karaoke mic and gave us excellent reeditions of Valerie and Sex is on Fire followed by two adorable children by the names of Noah and Jemima, bringing us right up to date with All About That Bass. If you are looking for a great night out 'Two 2' shouldn't be missed with more of a party atmosphere than a night at the theatre. The play became so open that when the landlady is faced with a dilemma, should she stay with her husband and the crumbling business or take up a job offer in sunny Spain one woman shouted 'get on the plane'.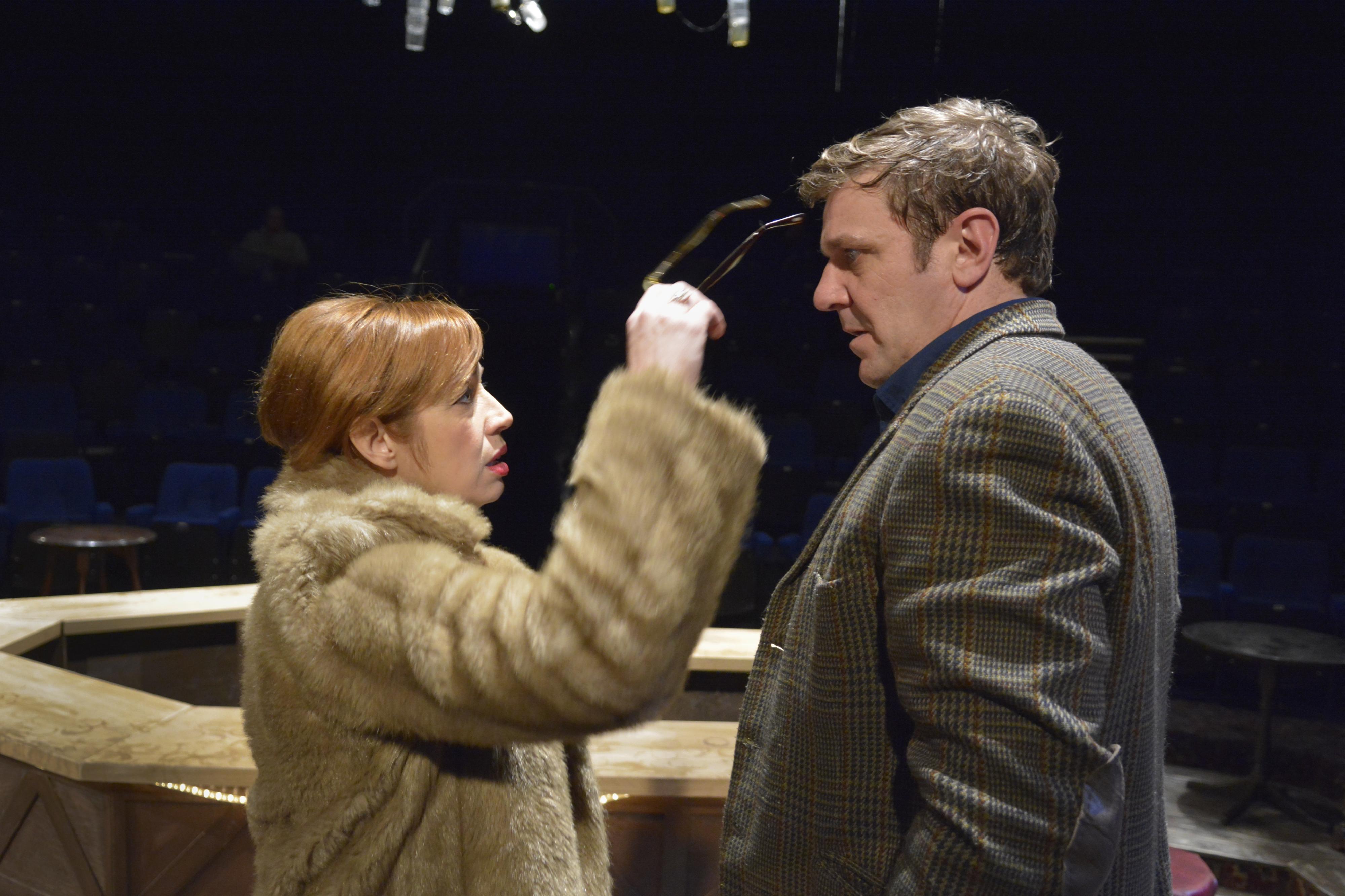 With hardly any customers in the pub we spend a bit more time with the characters we do come across and learn more about their story. Each person seems to have a dream they want to pursue or an opportunity ready to be taken. The 'bouncer ballerina' was one of the audience's favourites - with a similarity to Mrs. Iger's confession in 'Two' for a love of 'big men' - a tough bouncer declares her dream to be a ballerina and shows us her moves as the lights dim and the disco ball shines she choreographs throwing people out of the pub to what she calls 'ballet music' and she becomes strangely beautiful and funny at the same time. One performance that is probably the most heart wrenching of the whole play is the story of the karate teacher. Reciting poetry whilst performing kata, his story was so beautiful and unexpected that the ending of his poem almost had me in tears.
Connor was sublime in all his varied roles but in particular when delivering this stunning poem about his 'father's fist'. Another crowd favourite was Fufu, a good friend of the landlady and drag artist who owns a very successful establishment just down the road from the pub we're in. Arriving in his bright green go go boots, fruit bowl headdress and trench coat Fufu was a hilarious mix of Paul O'Grady and Louis Spence. He tempts our landlady to start a job at his new venue in Spain and she is left with the question should she stay or should she go. 'Two' culminated in an emotional last scene and 'Two 2' followed suit with the landlady entering the space in the final scene with her suitcase in hand. Go and see this wonderful world premiere to find out if she decides to stick it out with her husband or begin afresh abroad. Two 2 is a play that tells us; it's never too late to begin your life again and take that chance.
It is so pleasing to see Jim Cartwright follow on from one of his most loved plays with an equally wonderful yet completely different sequel. His ability to make the audience laugh and cry within the space of a few minutes is a testament to his writing as he is still just as good, if not better than almost thirty years ago!
Reviewed on: 12th February 2016
Reviewed by: Charlotte Green
Photo: Ian Tilton