It was unfortunate that this play was just starting to tour the UK when the Corona virus struck but now this production of Alan Bennett's 2009 play is enjoying a fine revival from the Original Theatre Company through streaming services until June 2nd 2020 and the good news is - it's well worth checking it out.
This is one of Bennett's least known plays and it's great to see this company give it the platform it so richly deserves.
The play is set in a rehearsal space in what looks like a church hall where a group of actors and the stage manager are having a run through of a play about the relationship between the poet W H Auden and the composer Benjamin Britten.
Philip Franks directs this play within a play with a lightness of touch and great finesse and gets some sterling performances from Matthew Kelly as Fitz (who plays Auden) and David Yelland as Henry (who plays Britten).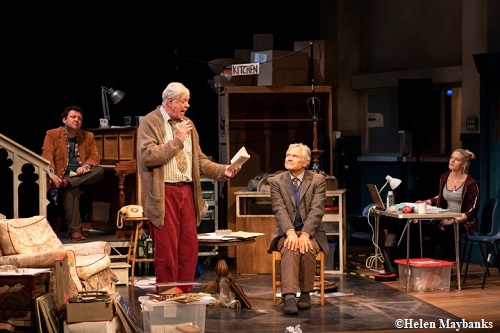 As usual with most of Bennett's work, the play luxuriates in sharp and intelligent dialogue throughout and the small cast of seven inhibit both the real world and the world of the play with great aplomb and a keen sense of balance.
Kelly is at the top of his game playing Auden, a sad and lonely figure who craves for any type of attention and a return to the height of his literary powers; it's such a well-judged and moving performance from Kelly throughout, demanding complete attention.
Yelland as Britten gives a superb performance as the inhibited and emotionally damaged composer who is frightened to expose his true feelings and give in to his own needs and sexual fantasies.
This sounds all rather grim and relentless but in actual fact, this is a warm and charming play about love, friendship and the true meaning of Art.
Besides the two magnificent leads the rest of the cast were also on top form. John Wark as the misunderstood biographer/journalist who is forever questioning where "he should be" on the stage, Benjamin Chandler as the rent boy who is willing to do anything to be close to fame but questions that he may be too old at 29 to be a rent boy , Veronica Roberts as Kay the calming stage manager who knows how to deal "with all these actor types", Jessica Dennis as the ASM/singer who helps steer the actors in the right direction and Robert Mountford as the confused and uptight writer of the actual play that is in rehearsal.
This is Bennett at his very best – adroit, witty and clever and every single performance on the stage matches his overall version.
Bravo!
You can watch this play online until the 2nd June via https://www.originaltheatreonline.com/
Reviewer: Kiefer Williams
Reviewed: 11th April 2020
North West End UK Rating: ★★★★★