By Jeeves, written and directed by Alan Ayckbourn with music by Andrew Lloyd Webber, is a musical comedy, inspired by PG Wodehouse's beloved double act Jeeves and Wooster.
The show opens with Bertie Wooster (John Scherer) trying to play a banjo concert, but unfortunately his banjo has gone missing and while his long suffering butler, Jeeves (Martin Jarvis), has provided a frying pan in its place, that won't do, so instead Bertie, at the suggestion of Jeeves, decides to tell the audience a story while he awaits the delivery of a replacement.
What follows is a nonsensical trip down memory lane, with an ironically show must go on spirit, as Bertie joyfully encounters old friends, reluctantly bumps into old girlfriends and engages in layers of farcical name swapping comedy and various light and cheerful songs.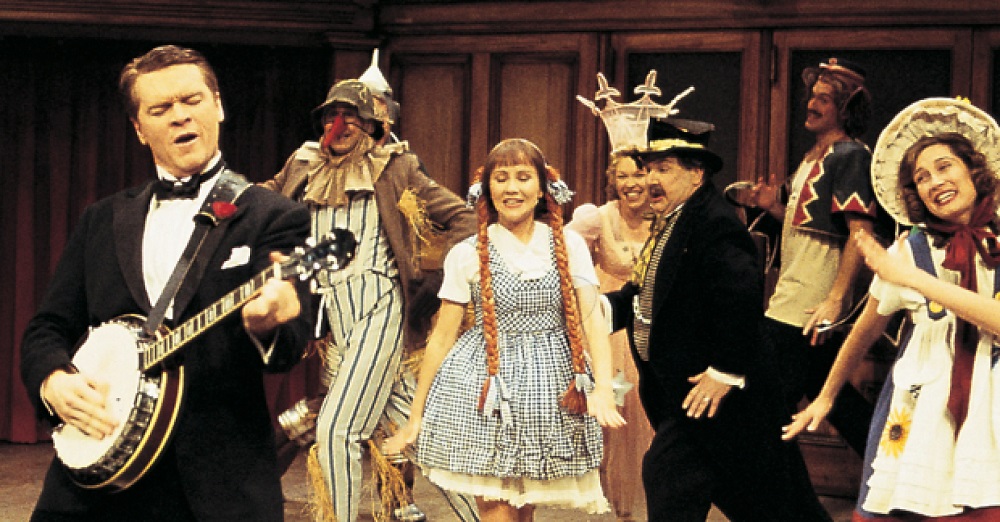 The story begins with Gussie Fink-Nottle (James Kall) visiting Bertie to tell him he is in love with Madeleine Bassett (Becky Watson). Unfortunately, Madeleine's father, Sir Watkyn Bassett (Heath Lamberts), is very intimidating and as Bertie used Gussie's name in a criminal trial recently presided over by Sir Watkyn, Gussie has adopted Bertie's name and, consequently, his address.
This is all well and good until a surprised Bertie finds his own engagement to Sir Watkyn's niece, Stiffy Byng (Emily Loesser) announced in The Times. Bertie resolves to see Stiffy immediately to resolve the situation, without, of course, letting Sir Watkyn find out his true identity.
The fourth wall is non-existent as Scherer and Jarvis take turns to narrate the action and comment on the set, props, lighting, sound effects and, on occasion, the other actors, all of whom are playing members of the stage crew, playing characters in Bertie's story, a charming technique which maintains the illusion of the show's premise. This basis also allows for several instances of "last minute" fixes, including a badly executed doorbell sound effect and a delightful "car" made out of an armchair.
As a musical none of the songs are particularly memorable, but they are on the whole upbeat and cheerful. Donna Lynne Champlin, playing Honoria Glossop, has a particularly strong vocal performance in a song of reminiscence of love lost and second chances.
Scherer has a talent for physical comedy and many of the comical moments of the play stem from these abilities. Jarvis employs the usual stereotypes in his performance, though is somewhat colder in his affection towards Bertie than other portrayals of the pair. Throughout the show there does seem to be something which has been lost from other interpretations of this story and the relationship between Jeeves and Wooster feels like it has faded somehow.
Steve Wilson, playing Cyrus Budge III (Junior) provides some mild threat and drama which is wryly amusing in the upper-class, English countryside setting. Don Stephenson, as Bingo Little, is very funny, utilising melodrama and absurdity in an excellent way.
This is an interesting example of musical theatre, which has taken well loved characters and presented them in a new and original way, but in doing so has lost some of the magic found in the original work and other interpretations of it. It is however fun to watch, with a number of good, comical performances which will make you smile.
By Jeeves is being streamed on YouTube until the 10th May 2020 at https://www.youtube.com/watch?v=jWWB2U3mntQ
Reviewer: Donna M Day
Reviewed: 8th May 2020
North West End UK Rating: ★★★★★