I have been waiting for this album to arrive since the announcement was made back in February that the London company of RAGS would be producing a cast recording. First revived by Katy Lipson (Aria Entertainment) in the Spring of 2019, this new production of RAGS received its UK premiere at the Hope Mill Theatre in Manchester, before transferring to the Park Theatre in London in January 2020.
Despite the pedigree of the creative team, RAGS is a relatively unknown show, which is a real shame. With music and lyrics by Charles Strouse and Stephen Schwartz, and an original book by Joseph Stein, the show has undergone heavy rewrites since its initial showing on Broadway more than 30 years ago, which include a revised book by David Thompson and new songs written for this updated production.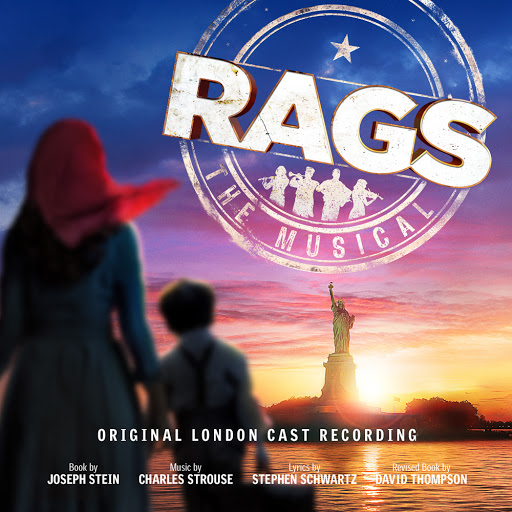 RAGS tells the story of Rebecca Hershkowitz, a Russian Jew, and her son David, who have managed to escape the pogroms in the old country and who arrive in the United States in 1910. Penniless after bribing their way onto the boat and without a family member to welcome them to America, Rebecca and her son are saved by Bella, a fellow passenger, and her family. The show then follows Rebecca and her new community through the ups and downs of life in their new world. RAGS is a rollercoaster of emotion – as was the reality of immigrants at that time – and the book eases you along through a story that is in places, poignant, and in others, rightly hard-hitting. It is, in turn, a love story, a coming-of-age-in-a-new-land story, and a story about racism, patriotism and nationalism and about the lengths you might go to to fit in, or survive, in a new place.
From the soulful opening notes of the violin (Arthur Boan), this Original London Cast Recording draws you right in and then carries you along with every beat. I felt like I was back sitting in the Park Theatre surrounded by the cast and musicians. The quality of the recording is exceptional, and you can hear every word and feel every emotion so clearly: every moment of joy, every second of emotional tension, and every note of anger, frustration and heartbreak.
The musicianship under Musical Director Joe Bunker is excellent and the orchestrations for this record are beautiful, and credit must be given to Nick Barstow for arranging this score to make it feel seamless and complete. Even without the whole story – this is a cast recording after all, not a full soundtrack – I felt completely immersed in the music from start to finish, and I found tears rolling down my face on more than one occasion. The arrangement also led me to elements of the production that I hadn't really noticed before, as well as including every one of the beautiful moments from the stage that I had hoped would be there.
In this time of social distance, in which many of us are separated from those we love, finding ourselves in unfamiliar and uncertain situations, and dealing with loss, the story of Rebecca and her family seems to have taken on even greater meaning, for me anyway, and the songs that I loved from the moment I heard them sung live have grown even more important.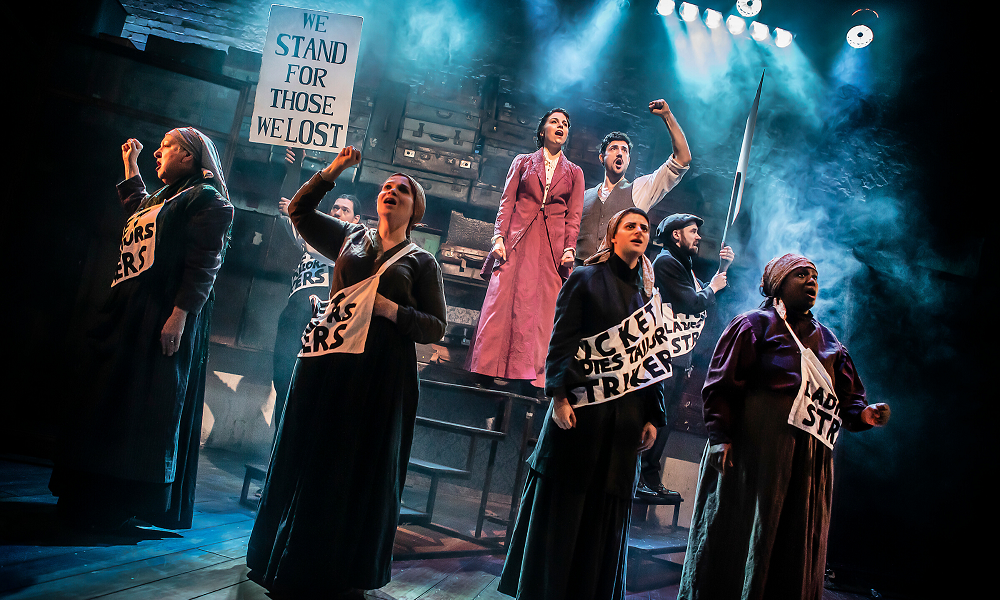 It's almost impossible for me to pick out highlights from this recording, but if I was going to choose a couple of tracks that stood out over the others? I really enjoyed listening back to Meet an Italian; Alex Gibson-Giorgio has such a wonderful tone in his voice, and it is really fun. Three Sunny Rooms is brilliant, and the pairings of Rachel Izen, Dave Willets, Martha Kirby and Oisin Nolan-Power make me smile. It was also really great to hear the young boys, Samuel Jones and Jude Muir, who shared the role of David, throughout the recording. However, my personal favourites on the album are the stories told by Rebecca in Edge of a Knife and Children of the Wind. These two tracks in particular tell of Rebecca's desperate desire for a better life for herself and her son, and they have stuck with me from the moment I heard them in Manchester. Here, Carolyn Maitland sings the role of Rebecca with the perfect mix of power and resilience, joy and heartbreak; and that definitely comes across on this recording.
"How can I promise him we'll be fine, when I just don't know? … Who knows what trouble tomorrow is bringing our way as we greet one more day of a life on the edge of a knife."
"Pieces of the heart scattered worlds apart, so far from those we love; all the Children of the Wind."
The whole cast, band and creative team have produced a beautiful album, which celebrates the best of the show, but is also a wonderful recording in its own right.
RAGS: The Musical Original London Cast Recording was produced by Auburn Jam, Nick Barstow and Stephen Schwartz, and is available digitally now on Ghostlight records HERE and everywhere you usually get your digital music. Physical copies of the CD will be available later in the year.
Musicians: Joe Bunker – Keyboard & MD, Nathan Gregory - Drums and Percussion, Sarah Campbell – Trumpet, Yusuf Narcin – Trombone, Arthur Boan – Violin, Angela Caesar – Violin, Natasha Karp – Clarinet.
Cast: Carolyn Maitland – Rebecca, Dave Willetts – Avram, Sam Attwater – Bronfman, Debbie Chazen – Anna, Alex Gibson-Giorgio – Sal, Rachel Izen – Rachel, Samuel Jones – David, Jude Muir – David, Martha Kirby – Bella, Oisin Nolan-power – Ben, Jeremy Rose – Jack, Arthur Boan – Company, Angela Caesar – Company, Adam Crossley – Company, Drew Dillon – Company, Matthew Gent – Company, Natasha Karp – Company.
RAGS was directed by Bronagh Lagan, and produced by Aria Entertainment in association with Knockhardy Productions.
RAGS was reviewed by North West End UK in Manchester on 5th March 2019. Read our review HERE!
Reviewer: Jo Tillotson
Reviewed: 15th May 2020
North West End UK Rating: ★★★★★