"And another hundred people just got off of the train". I remember the feeling well and would even say I miss the feeling of being so packed onto a train!
The first live production I saw, of Company, was the gender-swapped version on the West End at the end of 2018. It contains one of my favourite musical theatre songs 'Being Alive' and I couldn't wait to see it on stage, no matter how it was being presented. I enjoyed the gender-swap, there were ups and downs to it – the same as any other musical, but I've always wanted to see it as it was intended, and finally – thanks to Coronavirus (never thought I'd say that!) - I've been able to watch the 2006 Broadway revival starring Raúl Esparza. It's not quite the same as seeing it live, but at the moment I'll take what I can get!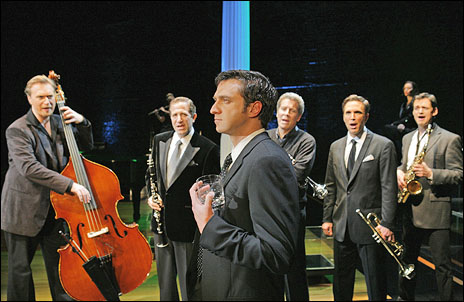 This revival makes use of actor-musicians which makes it an interesting watch, as it means that none of them leave the stage. There's no costume changes, no set changes but you can't tear your eyes away. You have to see how just the lighting cues and the actors themselves are able to draw you into their world. And it works. You can imagine yourself on Susan (Amy Justman) and Peter's (Matt Castle) balcony, overlooking residential manhattan, in Robert's (Esparza) bedroom as April (Elizabeth Stanley) sings Barcelona or even in the nightclub with Larry (Bruce Sabath) as Joanne (Barbara Walsh) sings 'Ladies who lunch'. But it is Esparza as Robert, sitting alone at the piano singing 'Being alive' that is the ultimate moment in this production. It is stripped back, completely natural and overwhelmingly powerful that makes you understand how and why it won the Tony for Best Revival in 2007. The whole cast is superb and supportive of each other and their roles – not just as cast mates but also as fellow musicians.
Personally, I could relate more to the modernised version of the show, whether it's because I'm unmarried and rapidly approaching my mid-30s, who knows? But there were moments that resonated during this production too. Friends asking Robert when he's going to settle down, matchmaking him with people they know and other such things of many single 30-somethings.
This production was thoroughly enjoyable and a great two hours away from the current situation. I'll definitely be watching it again, until we can all be side-by-side-by-side at a theatre again!
Reviewer: Jenn McKean
Reviewed: 31st May 2020
North West End UK Rating: ★★★★★