A Monster Calls, first seen on stage at the Old Vic in 2018, has now been made available to watch until 7pm on Thursday 11th June on the Old Vic's YouTube Channel. The play, directed by Sally Cookson, tells the story of a thirteen-year-old boy named Conor (Matthew Tennyson) dealing with the messiness and loss of real life, from his difficult relationship with his grandmother (Selina Cadell), bullying at school and his father (Felix Hayes) living in America with his new family to, now, his sick and probably dying mother (Marianne Oldham). Help comes to him with the less messy and less realistic monster personification of the Yew tree (Stuart Godwin) visible from his bedroom window, who tells him three stories in exchange from a fourth from Conor.
This stage recording is now the third popularly available way of experiencing this story, behind the 2011 book by Patrick Ness which inspired it and the 2016 film starring Felicity Jones, Liam Neeson and Sigourney Weaver. It is also the medium which faces the most challenges in telling it: a book or a film can easily conjure a car or a sentient tree-monster in your mind's eye or on the screen, while a play can realistically only evoke them. With the Monster, the four stories and all the different settings (house, hospital, school, etc), there is a lot to evoke.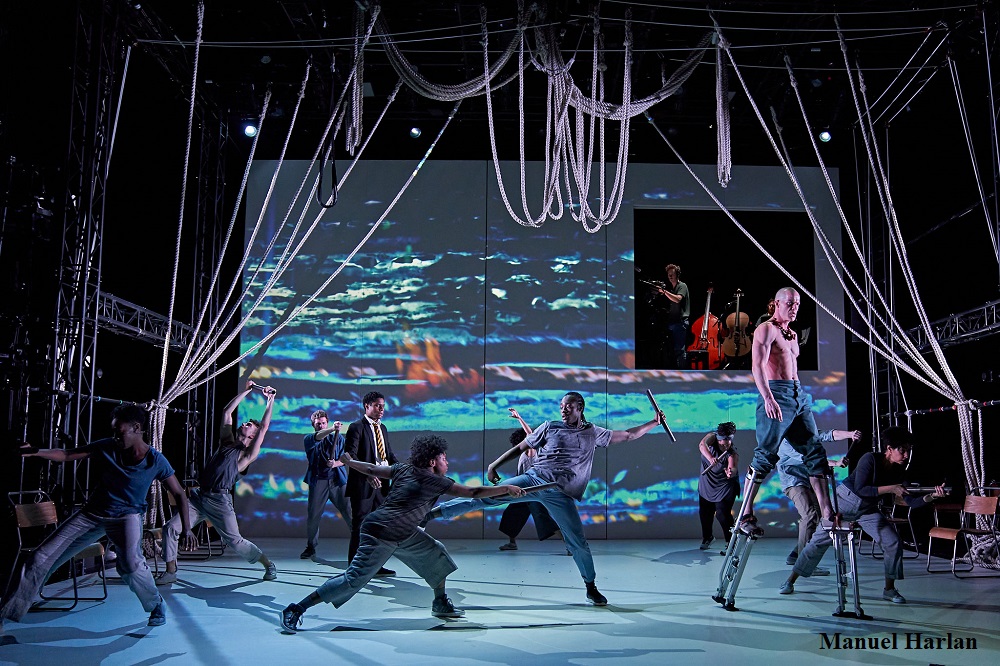 As an adaptation, this Olivier Award-winning production thoroughly succeeds. The cast, many of them playing more than one character, navigate the story very well, creating much of the set themselves through castaway clothes (for a teenager's bedroom), different formations of chairs (a classroom, a living room, a wall) and ropes (the Yew Tree-monster). The set and props are as minimal as they are effective, especially with the sound-design which, through different soundscapes, conjure up each setting, while the music, played live by three musicians from a square cut out of the stage backdrop, keeps things moving and/or atmospheric and emotional as required.
However, the play does not entirely surmount some of the challenges of its medium. The characters (especially Conor) get a fair few humorous observations and jokes which, especially coming from the lead, sometimes fall flat and strike one as an unnecessary precaution against viewer disengagement. A few puzzling decisions are also taken with regards to the Yew-Tree's first appearance, which is when it is least recognisable, at the time when it should have been the most, as we haven't seen it before and it has only been referred to in dialogue, and always from an opposite direction (out in the audience). This would be less puzzling if the ways the tree was shown in subsequent scenes, all of which use the same methods to portray it, all did a better job of showing both its size and tree-like nature.
I suppose the real issue concerns the way the play is being experienced: live-onstage I'm sure the meters of rope and suspended actors works wonderfully, but on-screen in a YouTube tab it becomes the poorer relative of a kindle-page or streamed film. Does that mean the play should not be shown in this form? No. In comparison to the stage version it is far more accessible geographically and financially than the Old Vic could ever hope to be. However, unlike in several previously streamed shows, this one, because of the several versions that preceded it and its effects-heavy nature, functions better as an advert for the show rather than as an experience in itself.
It is however a good advert and still an able telling of a great story. If you are a fan of the book or a fan of theatre with a strong emotional core and thanks to great work from all concerned, this is a show you should seek out, on-stage or, in the meantime, online. https://www.youtube.com/watch?v=mRIZB6tErfE
Reviewer: Oliver Giggins
Reviewed: 5th June 2020
North West End UK Rating: ★★★★★