A show which first made an impact at the Edinburgh Fringe 2018, Primrose Path is the most recent of Mannequin Mouth's raw and visceral stage productions to be turned into a film, designed to "shock, adrenalize, and confront" its audience. Written by Will Pinhey, and directed and produced by Pinhey alongside India Howland, this play is a challenging, dark, and disturbing piece which looks at love, jealousy, and obsession within a relationship.
Chriss (Laura Jackson) and Damon (Michael Hogg) tease, play, and hurt each other in a twisted game of dominance and submission, but who has the upper hand, and where will this game end? Filmed in an empty performance space from a variety of angles to pull the viewer right into the action, this ninety-minute piece has a constant, jittery energy. It brings in elements from a variety of media (the films Realm of the Senses, Last Tango in Paris, The Deer Hunter, the play Who's Afraid of Virginia Woolf?, YouTube vlogs which rely on dangerous dares) as well as pushing the boundaries of what is acceptable in consensual non-consent scenes in the BDSM space.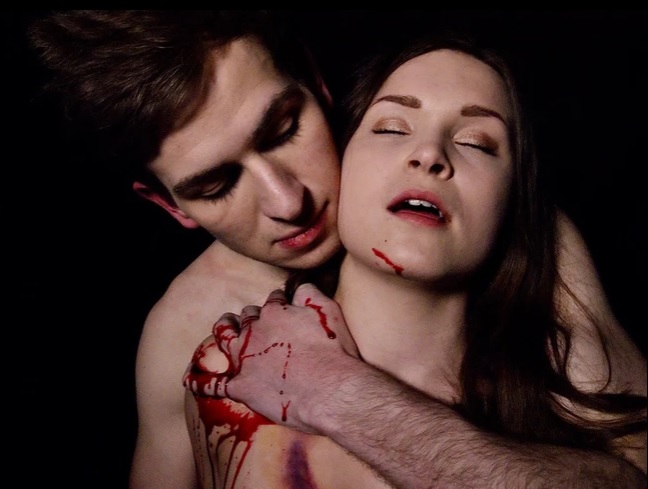 As the play opens there is a warning about its content: strong sexual and domestic violence, miscarriage references. This is not a piece to watch if you are at all squeamish about the subject matter, but if you are open to exploring this twisted relationship the experience of seeing it played out on film is a rewarding one. Primrose Path is a battle of wills, initiated by Chriss, curiously tactile in the current climate, revealing a strong sense of trust between Jackson and Hogg who are expected to touch each other intimately (both tenderly and in shocking bursts of violence). Their "play" is intense, their game of pain one it feels intrusive to observe.
This a tense two-hander for the most part, full of erotic sadism, power play, and emasculation. When a third character, simply credited as "The Man" (Samuel Nicholls) enters the dynamic in the most innocent of ways, the rules are there to be broken, and Pinhey's script does not hold back from the consequences of moments which began with Chriss stating "I like the taste of your blood". The scenarios of extreme domestic and sexual abuse lead to an intensity of wills with close eye contact between the principals and a perverse pride in their sexual pleasure which means "we wear permanent tapestries of each other's work".
Pinhey and Howland as co-directors do a good job of pulling the viewer into the headspace of the characters in Primrose Path, with equal time placed on the motivations and insecurities of both. There are moments designed to shock outright which work well: a buzz of energy in a relationship where even a hypothetical child is viewed as "collateral damage".
As a film this brings in perspectives and viewpoints you would never see as a stage audience. It rethinks the production for a wider audience with quite a different aesthetic to that of a small audience in a fringe space. Until the final third of the play the soundscape is simply Chriss and Damon in their whispers, questions, and raised voices. A discordant soundscape overlays the scenes which lead to a devastating conclusion, should leave an audience breathless and shocked.
Primrose Path is available to watch at Mannequin Mouth's Vimeo channel.

Reviewer: Louise Penn
Reviewed: 28th June 2020
North West End UK Rating: ★★★★★