It is hard to believe that anyone would not know the musical of Joseph as the first professional production with lyrics by Tim Rice and music of Andrew Lloyd Webber took place in 1972 but I have to admit that other than the lyrics of 'Any Dream Will Do' I knew very little about the show and had no real desire to do so, so having no expectations my next statement seems a contradiction… I did not expect this… Joseph is a biblical story portrayed on stage with Country music, Elvis, Calypso and French accordion with a backdrop of the Eiffel Tower which bizarrely works well. My husband said I would love it…we will see.
Presented by Bill Kenwright (by special arrangement with the Really Useful Group) tonight's story tells of Joseph who is the youngest of 12 brothers and is the favourite of their father causing much jealousy amongst them especially so when Joseph is presented with a richly coloured coat by Jacob (Henry Metcalfe) their anger against him increases and they sell him into slavery and he is taken to Egypt. The brothers then take Josephs' coat to their father covered in the blood of a goat they have slaughtered and he is distraught that his favourite son is surely dead.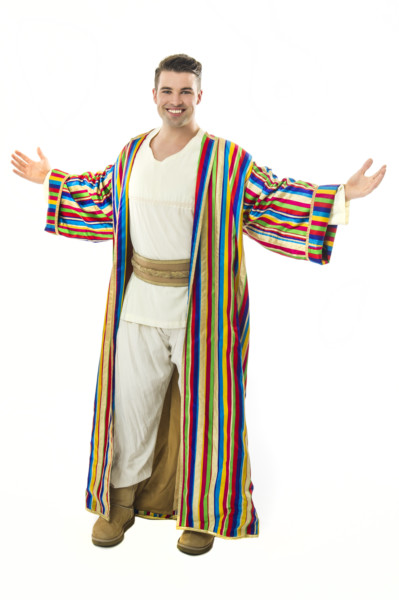 Once in Egypt Joseph is bought by Potiphar (also performed by Metcalfe) but is imprisoned after Potiphar's wife takes an interest in him. After languishing in prison, eventually Josephs' ability to interpret dreams comes to the attention of the Pharaoh who is troubled by a dream he has and asks Joseph to interpret it. As reward he honours him by making him his second-in- command.
As the years pass Josephs interpretations come true and a great famine occurs forcing the brothers to travel to Egypt to seek food. Joseph pretends not to know them and they do not recognise him. Setting them a task to prove their loyalty before his forgiveness Joseph returns to his home and is reunited with his father.
Narrated throughout by the stunning voice of Lucy Kay, runner up in 2014 on Britain's Got Talent, we see Joe McElderry give an outstanding vocal performance in the starring role of Joseph, his endearing popularity evident with the audience. My particular favourite was McElderry's rendition of 'Close Every Door'.
McElderry has come a long way since the days of winning the X Factor in 2009, with record sales of over two million and the Winner on both TV shows Popstar to Opera Star and The Jump, he is also a talented songwriter.
Cast as the Pharaoh King or as in this case another King, Elvis, is Emilianos Stamatakis making his UK debut and after tonight performance this should not be the last the UK will see of him. Despite a slight technical hitch bringing the curtain down briefly he went on to perform faultlessly
The set design, costumes, lighting and scenery were amazing and given the size of the Theatre Royal stage in comparison to larger theatres worked extremely well, I particularly liked seeing the youngsters from the Performers Theatre School sat along the staircases to each side on the stage, not at all distracting and who sang in perfect harmony
The choreography throughout was brilliant in its portrayal particularly by the brothers of Joseph bringing some light hearted comedy moments. A special mention to the musical direction of Melvin Towse should be given as without music what is a musical?!
Finally was my husband right? … for once…. Yes!!
Joseph and the Amazing Technicolor Dreamcoat is showing until Saturday 27th February 2016 at The Theatre Royal St Helens. For further information and tickets contact www.sthelenstheatreroyal.ticketsolve.com
Reviewed: 23rd February 2016
Reviewer: Lorna Weekes