Over the last few years, Bolton's Octagon Theatre have produced a very mixed bag of goodies. There have been some extremely strange and off-beat cringe-worthy misses and a couple of absolute hits, with most of their fayre falling somewhere in between. However, last night's production (in association with Derby Theatre) of Look Back In Anger by John Osborne can simply go straight to the top of their pile. It was undoubtedly and quite simply a sure-fire hit.
Faithfully, truthfully, and engagingly portrayed, the story tells of Jimmy Porter, the original 'angry young man', living with his wife Alison, and a Welsh lodger, Cliff in a flat in, what we know to be Derby since the play is hugely autobiographical. Life, especially on a Sunday, is a little tedious and monotonous, and both Alison and Cliff are fed up of hearing Jimmy's angry tirades. No secret is made of Cliff's and Alison's mutual fondness, and it seems almost likely that they will be the 'love-triangle' in the play, but no; enter Alison's upper-class sophisticated actress friend, Helena, and it is now her and Jimmy who begin to hit things off.
With Alison pregnant, and her husband having an affair quite openly with her best friend, she is desperate, but also afraid. Jimmy is a loose canon, and his offensive and destructive insults and his explosive, erratic behaviour make it very difficult for the quiet unassuming, and put-upon 'squirrel' to stand up to her 'bear'. The one person who could intervene and smooth things over, rarely does. Cliff knows his position and knows that there are rights and wrongs on both sides, and so tries to keep the peace as much as possible without rocking his own boat.
The play is quite rightly studied in academies all round the world, for this play, more than any other, changed theatre in twentieth century England. The original 'kitchen sink drama' it tells of working class people, with working class struggles. It speaks clearly and plainly of their hatred of the old boy network and the class system, and it spawned a whole plethora of new writing and new attitudes towards what was acceptable and possible on the British stage. No more elitist costumed dramas, no more BBC English, and this play even managed to inspire both costume and set designers to 'think outside the box' too. [Well of course these plays still happened; they now co-existed with a more down-to-earth play for the people.]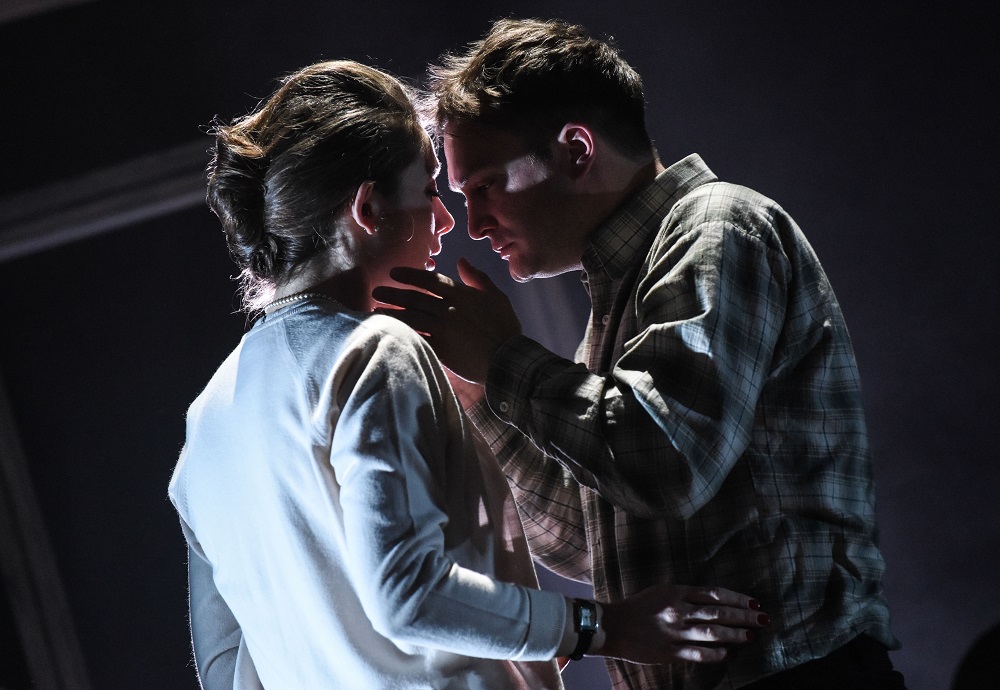 The set by Neil Irish at The Octagon was extremely good. I really loved the attention to detail which had gone into its making. Everything was totally befitting the period, even things which weren't actually used or referenced - especially the stock on the kitchen shelves, and the books around the edges of the set. The cooker, pipes and boiler in the attic all added greatly. I was indifferent to the imaginary doors with just their outlines. I didn't like though the two 'walkways' at either side leading to them. a little 'arty' and didn't really fit with the realism of the rest of the set.
The directing was solid, sensible, thrilling, tight, in fact - just superb - except for one very minor thing which did irritate me slightly. Again a very 'arty' moment or two when characters being spoken about but not actually on stage appeared on these walkways for a few seconds and then vanished again. The build-up of tensions, the emotional rollercoasters that both the cast and us, the audience are taken on were superbly well-measured and exciting. The fight scenes excellently executed. The first, knocking over the ironing board and burning Alison was so real. Massive congratulations to director Sarah Brigham and Fight Coordinator Ian Stapleton.
The acting was, as you would probably expect by now, again of an extremely high standard. Patrick Knowles as the angry intellectual Jimmy, gave what can only be described as a bravura performance. Spine-chillingly both exciting and horrible at one and the same time. Augustina Seymour, as Alison, his meek and down-trodden wife, who in 1950s Britain, knows her place, was a wonderful foil for his rampages. Her performance was extremely well measured and truthful. An utter joy. The Welsh lodger, Cliff, is always the hardest of these three to place. Where does he fit in and exactly what relationship does he have with either of them. I think Jimmy Fairhusrt did an excellent job in answering both of those questions last night. A very believable and real portrayal. The one who failed to impress me at first, and indeed did little to make me empathise with her or even believe her in the first half before the interval, made up for it in the second half and I also was able understand a little more why she came across at first as aloof and distant. Yes, Daisy Badger's performance as Helena grew on me.
The lighting and sound all absolutely fine, except I do think that Jimmy's offstage trumpet playing should have been louder and more intrusive.
If you haven't seen this play yet, then do so. If you have already seen it, tell your friends! It runs at The Octagon until Saturday 30th April.
Reviewer: Mark Dee
Reviewed: 11th April 2016
Photo: Robert Day