As I sat in the Lyceum Theatre, Sheffield last night I quickly realised I was one of the few audience members that hadn't seen Guys and Dolls previously, either on stage or in film. The impression I had of the famous musical was that it fell into the genre of American Classic, with elaborate chorus numbers, exaggerated accents and predictable plot lines. However, looking around me it was obvious the musical has gained a strong following since it opened on Broadway in 1950 so I was considering that perhaps I had assumed too much, too soon. Guys and Dolls has been revived six times over the years, both on Broadway and in the West End, but it was a 1955 film adaption of the musical really attracted the audiences with big names involved in the production, such as Marlon Brando and Frank Sinatra.
Guys and Dolls is an adaptation of Damon Runyon's 1920/30s short stories concerning gangsters, gamblers and other well-known New York characters. In this post-WW2 era, happiness was gained in the smallest moments, such as a game of craps with your friends. However, the eye catching dance routines and comedy songs don't distract fully from the honest view of New York shown on stage and this was a far cry from the fable and fairytale based productions filling Broadway theatres at that time. Guys and Dolls' romantic narrative brings together these two worlds; gamblers and dreamers. Set in the Manhattan of Runyon's stories, Guys and Dolls shows the tale of Nathan Detroit's (Maxwell Caulfield) thirst to continue is craps game empire by finding a new location. He resorts to making bets with a high-rolling gambler named Sky Masterson (Richard Fleeshman) which involve playing with the emotions of a local missionary girl Sarah Brown (Anna O'Byrne). As this commotion and gambling is taking place the audience grow to sympathise with Detroit's fiance of fourteen years, Miss Adelaide (Louise Dearman) as her moments of addressing the audience provide the perfect hopeless comedy relief needed in this seedy environment.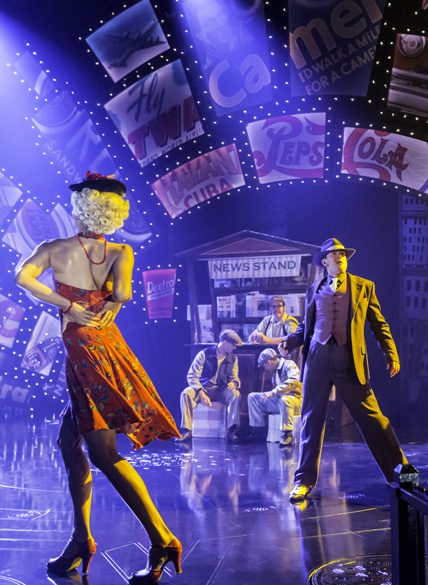 As an audience member I was immediately connected to Caulfield's exasperated portrayal of Nathan Detroit's demeanour as this was perfect for the desperate situation he was in. The scenes between Caulfield and Dearman really communicated to the audience the complexities of Nathan and Miss Adelaide's engagement, but their comedic chemistry on stage demonstrated how in relationships like this, love can hold two opposites together. Fleeshman clearly enjoyed the challenge of playing the rich and famous gambler Sky Masterson as his confidence and body language mirrored the air of arrogance these high-rollers need to have to succeed in the gambling world. Initially Fleeshman wasn't convincing me he could carry the large role of Sky Masterson, as some of his earlier moments came across mumbled and unsure, but the moment his interaction began with O'Byrne in her role of Sarah Brown, the pair began to entirely complement each other on stage. These two contrasting personalities were alive on stage, and the audience could recognise the beginning of a complex relationship, even if the characters couldn't.
With any classic American musical, the supporting roles and ensemble members of the cast were just as engaging as the principal roles, and last night Guys and Dolls wouldn't have been a success without them. Each member of the cast deserves the utmost recognition, as they brought the theatre to life, and managed to change my outlook on this genre of theatre. Jack Edward's interacted especially well with the audience to create the lovable rogue character of Nicely-Nicely Johnson, through his subtle looks and facial expressions on the events taking place. Carlos Acosta and Andrew Wright's choreography was outstanding throughout the production, especially taking my breath away during Luck Be A Lady with the male ensemble showing excellent flexibility and precision in their elaborate and challenging routine. On my journey home it was definitely these choreography and ensemble numbers that stayed in my mind, and in my opinion made the evening as joyful as it was.
Guys and Dolls did in fact live up to my original expectation of elaborate chorus numbers, exaggerated accents and predictable plot lines. However, the production also provided me with an evening of light hearted comedy relief and one of the most impressive ensembles I have witnessed in a long time. You can't base a musical in Manhattan without expecting over-exaggerated accents and bold personalities on stage, but Gordon Greenberg's direction managed to portray this as comedy gold, which avoided the 'corny' reputation this era of musicals can often hold. An audience of all ages enjoyed the production last night, with an elderly lady sat next to me laughing and singing along at every opportunity. This lady made me appreciate how well loved this musical still is today, 66 years after its premiere on Broadway.
Reviewed: 19th April 2016
Reviewed: Christine-Jane Parkes
Photo: Johan Persson