I was incredibly pleased to discover that the venue for tonight's performance of Two was a classic, black box studio theatre. This is because I knew from experience a play with only two actors involved would be so much more engaging and interactive in such a personal venue, and I was right! Bite My Thumb is a Yorkshire based theatre company and appeared truly in their element during this evening's intimate performance. Two written by Jim Cartwright is a challenging task to take on, due to the variation of emotion, intensity and energy throughout the play, but I believe both Sophia Becic and Neil Knipe rose to this challenge.
Two is based in a 'typical' Northern pub during the 1980s and is primarily narrated throughout by the seemingly content Landlord and Landlady in their harmless bickering and interaction with customers. As the play progresses both Becic and Knipe switched between a selection of new couples that spend their evening in this pub, revealing the secret lives of people we walk past on our way to the bar.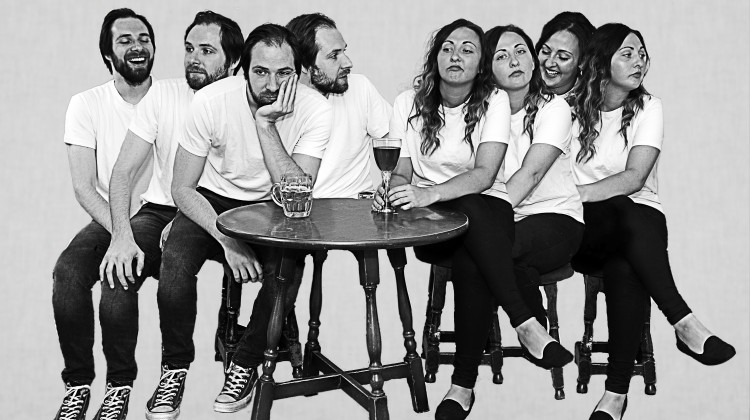 It isn't until the moment in which a young boy is lost in the pub that we start to see the cracks in both the marriage and partnership within this establishment. Bite My Thumb managed to mirror this dreary setting in their simple, yet to the point stage layout, consisting only of bar stools, tables and of course, plenty of drinks. This uncomplicated set provided the perfect opportunity for the audience to engage purely with the secrets being revealed over a few cheeky drinks.
Both Sophia Becic and Neil Knipe directed tonight's performance, in addition to taking on the fourteen various characters that enter the pub on a seemingly regular basis. These characters all had their different relationship backgrounds, such as the hopeless matching of Maudie and Moth and the unnerving control battle of Roy and Lesley. Becic and Knipe succeeded in exaggerating their change of role to the correct level, in order to ensure the audience follow the multi role transition, yet still making each character relatable and endearing. Beric's performance of the 'Old Woman' was incredibly subtle in her exhausted body language and comforting tone of voice, and this provided the brilliant juxtaposition of her attention longing Mrs Iger in her hunt for a 'big man'. Knipe also achieved the variation of both vocal accent and physical demeanour to transition back and forth between his roles. It was a tough ask to enable the audience to sympathise for the cheesy Landlord with his overused jokes and eye for profit, but Knipe's performance in the final scenes especially certainly made me consider what inner demons people may go through behind closed doors.
80s music was used with gentle lighting to complete the changeover required between characters, and even though some of these changeovers were longer than others, the actors used reoccurring interaction with the audience to keep us committed to the narrative.
Bite My Thumb created a very friendly and welcoming atmosphere within the theatre tonight and received one of the loudest round of applauses I have heard from a modest 52-member audience.
Reviewed: 22nd April 2016
Reviewer: Christine-Jane Parkes