Thrilling physical theatre
"Origins" by Animikii Theatre is an enthralling piece of work telling the story of the biblical first murder of Abel by his brother Cain. We begin seeing Cain in exile, before the story of him and his brother is told from the beginning. Instantly it was clear how much work had gone into this production, as the slick choreography was timed to perfection, every sidestep was measured, and every glance was carefully considered. The performers, Henry McGrath and Adam Davies, are hugely talented and highly trained, both having graduated from the Theatre Lab MA at RADA.
The performance had a great contemporary feel to it by using influences of parkour and martial arts such as Tai Chi and Aikido. It was also complemented by a luscious soundtrack (from musical director Oscar Thompson) that was again modern, but with just enough motifs of Middle Eastern music to transport us to a biblical setting – the standout point was a beautiful sung piece heard at the climax.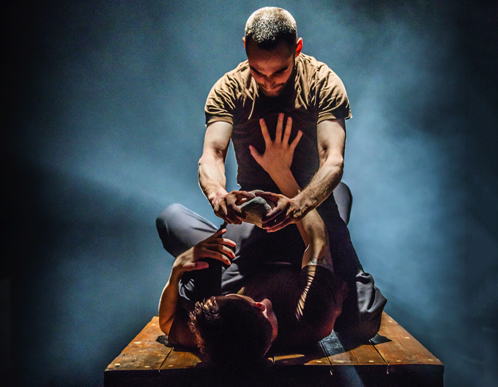 The impressive thing about this piece of physical theatre, told without words, is that you could easily follow the story, and you understood the enormity of what was happening, even if you weren't aware of the story they were trying to tell beforehand. We saw two boys playing, two boys fighting, we saw one as a shepherd, we saw jealousy developing, soul searching, and finally the murder of Abel and the exile of Cain. The story was told with a fantastic, minimal set, where some wooden poles transformed from being outposts, to spires for climbing, to weapons. Often physical theatre performances suffer in the moments of quiet, the moments of rest, but here these were just as intriguing, with searching poses held under spotlights, and so there wasn't a single dull moment- a big achievement, and testament to the immense thought that's gone into this.
The hour-long performance was gripping and intense, grand and ambitious, with breath-taking movement throughout. The audience lead a rousing applause at the end, as we were all so impressed with this spectacular production and the two performers. Animikii are touring this in London and the North West, check out their website for details http://www.animikiitheatre.com/performances/
Go and see it if you can.
Reviewer: Ben Spencer
Reviewed: 29th April 2016