Judy Garland may have tragically left this earth far too soon, however she still remains a legend today. End Of The Rainbow is a humorous yet deeply moving play focussing on Judy's final years and focuses on her last UK concerts at The Talk of The Town (now known as The Hippodrome Casino) in London's Leicester Square, as well as her engagement to Mickey Deans and the unexpected love between her and her gay pianist Anthony Chapman.
The cast comprises of only four actors, however this evening Sam Attwater, who is cast as fiancé Mickey Deans was off (presumably unwell) therefore Simon Pontin played both the role of Mickey and the Interviewer/ASM. Therefore last nights opening night in Sheffield the play consisted of a cast of just three, yet is was the most magical play I have ever seen.
Popular television actress Lisa Maxwell, whose television appearances include The Bill, Loose Women and Eastenders, along with West End roles in Grease (The Dominion Theatre) and Boogie Nights (The Savoy), plays the leading role with absolute perfection. My only memories of Judy Garland are, of course, The Wizard of Oz, a film I went through several VHS tapes of as a child due to watching it so many times, and Meet Me in St Louis. However Lisa made the entire performance seem as if I was watching a previously unreleased Judy Garland movie. Within the first fifteen minutes Lisa had the audience under her spell and it really felt as if we were in the 1940s watching the real life Judy on stage. From her appearance and vocals, Lisa was perfectly cast in the role.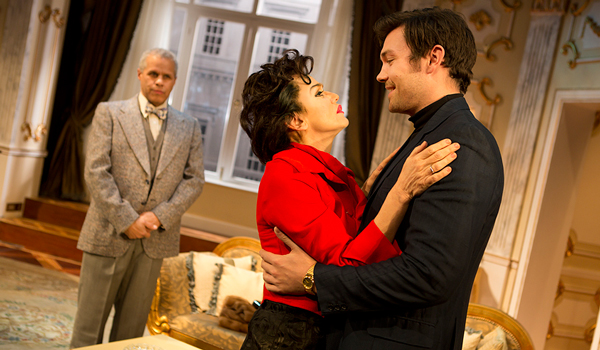 On stage and screen, Judy portrayed an image of a sweet and innocent young actress who had been blessed with her big break as a child actress. Off stage, and from a young age, Judy was fed amphetamine by MGM (Metro-Goldwyn-Mayer), the little yellow tablets which were the answer to studio boss's prayers. Judy along with other young actors including Mickey Rooney, were regularly fed the narcotics which were at the time supplied quite openly without prescription, to help them cope with the frenetic schedules of filming.
Sadly this became the start of a life-long battle with both drink and drug addiction for poor Judy, who became a master at hiding pills wherever necessary. Towards the end of her career, Judy was seen to be under the influence of drink and drugs at both concerts and interviews, "You could have shoved cables into me and powered Manhattan!" (Judy). After varies suicide attempts, Judy sadly died on 9th January 1969 during her long stay in London, following an overdose on sleeping pills, just less than two weeks before her 47th birthday. In 1999, in her memory, she was awarded posthumous Grammy for Lifetime Achievement. Judy may no longer be on this earth, but she is still a huge icon to this day, and I believe that, At The End of The Rainbow – Judy still performs sell-out concerts amongst the many other icons that tragically left this earth too soon.
Lisa is utterly sensational as Judy Garland, and whilst the other cast members (Gary Wilmot as her Manager Anthony Chapman) and Simon Pontin as her fiancé (usually played by Sam Attwater) and as the Interviewer/ASM also gave sensational performances; Lisa's performance was outstanding.
From witty in-line jokes about The Wizard of Oz, to the lows of Judy's struggles, the show is simply sensational.
End of The Rainbow runs for two more days at Sheffield's Lyceum Theatre before continuing onto its next venture. The show was a huge success in the West End in 2010 and the tour appears to be doing as equally well. Although I have only ever seen two Judy Garland movies, I have always considered myself to be a fan. It was interesting to see what really went on behind the scenes and in Judy's final years, although it was somewhat upsetting and distressing to see. Judy will always remain in my memory as that sweet young girl we all grew to love and adore in The Wizard of Oz.
Take your tissues, be prepared to laugh out loud but feel great sorrow the next minute, this show is most definitely The Talk Of The Town.
Reviewer: Lottie Davis-Browne
Reviewed: 12th May 2016