Faux is the tale of quirky vintage shop owner Philomena Beaufort, written by Hannah Hopkins Jones and Ben Price. Philomena, played by Anca Vaida, is reopening her shop, thanks to a boost in sales from her collection of furs. Being plagued by dreams of animals being hunted, she is unsure what it all means, that is until the furs come alive and start talking to her, well, singing to her.
Along the lines of Avenue Q, the animal puppets have a way of talking about darker issues in a cheery upbeat manner, which was delightful to watch. Emily Compton composes lyrically brilliant songs about animals being skinned alive and being torn apart from their family whilst also making you tap your foot along to the beat. The 'rabbits', played by Bethan Kate -Tonkin, Elliot Pritchard and Kluane Saunders, were delightful as a trio of dancing shoes and were adorable whilst singing of ghastly fur farms.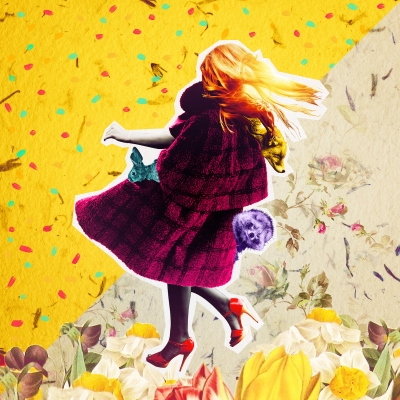 The puppets were a little ad hoc as there were many different types. The rabbits were personified shoes, with no real face, however the fox was a stole with the addition of the puppet face, whereas the bear was an actor wearing a fur coat with a bear head. If there would have been more coherence with the puppets the new world would have been clearer.
Compton's risky songs, in their happy go lucky style, were the highlights of the performance and were performed to a very high standard. You were always waiting impatiently to be introduced to the next fur animal. The animal characters were well developed and each had their own wonderful personality. The puppets however sometimes lacked focus in regards to eye line and it was confusing as to what or who they were looking at. Also while the puppets were sat still, they sometimes seemed not to be breathing and therefore seemed a little lifeless.
The new magical world of fur items coming alive was naturally more intriguing than the reality of the real world story. The narrative could have got going a lot quicker as the beginning scene wasn't really needed and Philomena talked to the audience - which she then didn't do for the rest of the play – so was quite jarring. Also the believability of the character of Philomena and the relationship with her ex-husband sometimes wavered.
The songs however were transitioned into easily from the dialogue and felt very natural. The Racoon Dog, in particular, endearingly played by Sam Conway, pulled at the heart strings and the New York City fox played by Kluane Saunders was a brilliant character choice.
This play/musical has the potential, with a larger budget, to be a great show. A fun take on a serious topic, full of empathy and laughs.
Reviewer: Caroline James
Reviewed: 8th August 2018
North West End Rating: ★★★