Writer and director Rowan Jacobs brings the striking new production 'Life in Death' to the Camden Fringe this summer. A thrilling 40 minutes, this intense two-hander explores an inmates' peculiar response to being on death row: refining his juggling skills.
Immediately, the audience are met by distressed prisoner Wallace Jones, played by the dynamic Teddy Robson. As director, Jacobs begins the show using an effective image which displays Wallace's supressed terror over his impending death. Robson is incredibly animated as he frantically shifts from scrunching pillows to shifting spaces, the only solitude being found in the reassuring rhythm of juggling. The outcome is tragic and affirms his path for the course of the play- extreme denial of what's to come.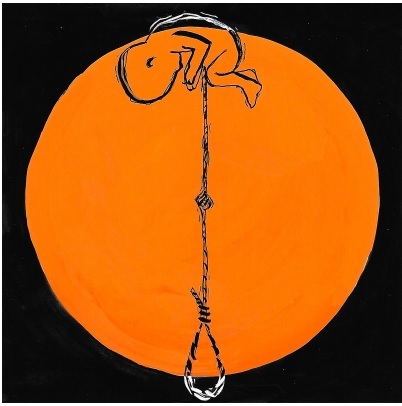 Set in 1960's England, when the death penalty was swiftly handed out, the story is set in a single prison cell. Wallace seems more concerned with preparing for a prison talent show than reflecting on his conviction. It's only when his estranged wife Mary (Alice Simpson) appears, the conversation turns to more serious matters. Pregnant with his child and wanting to reach him before it's too late- the clock is ticking as there are only 40 minutes left till he's scheduled to be hung.
A unique and compelling plot. The notion of avoid confronting the realities of death before it's too late, has great relevance for today. Jacob's writing also included discussing abuse, fear of failure and feminism- perhaps an overly-ambitious collection to do justice in the time provided. Wallace's journey alone was tragic enough and further heart rendering events made the piece overly sombre at points. Direction could have included a stronger offstage presence to break the well-established tension. At one point the presence of footsteps was mentioned, but there was nothing auditory for the audience to believe in.
Robson and Simpson were well matched. There is a clear chemistry between them and they provided a great contrast in character. Battling against an incredibly noisy venue, they did well to engage the audience throughout. Simpson was a little tentative at first, a soft voice made her lines initially hard to follow with the distracting background noise. In time, her commanding stillness compelled spectators as she delivered some of the most memorable lines including, "No one wants to die but that's the curse of being alive".
A brilliant production which was a delight to watch. I hope to see it develop further.
Reviewer: Isla Robinson
Reviewed: 22nd August 2018
North West End Rating: ★★★★