I'm ashamed to say that I approached last night's performance of Orlando with some trepidation, having studied the novel by Virginia Woolf while I was at university and finding it rather hard going. I am delighted to report that Marvellous Machine Theatre Company successfully cast away my doubts within minutes and provided an evening of entertainment that I can only describe as thoroughly joyful.
The play follows Orlando through time and lives, and the cast delivered a surreal concept in a believable and energetic way. Orlando's journey, falling in and out of love, lust and even gender, is conveyed with strong acting, pace and a fair amount of humour. The cast move seamlessly between characters and personas that are brilliantly distinct and real, sometimes moving and sometimes laugh out loud funny. It really is a whirlwind of a performance delivered with a lot of heart.
It was my first visit to the Theatro Technis, which is a cosy but well equipped and comfortable space a short walk from Mornington Crescent tube station. The team made ingenious use of the space to whisk the audience through a series of convincing new worlds, using light and shadow to take us from an old oak tree to the bustling streets of London.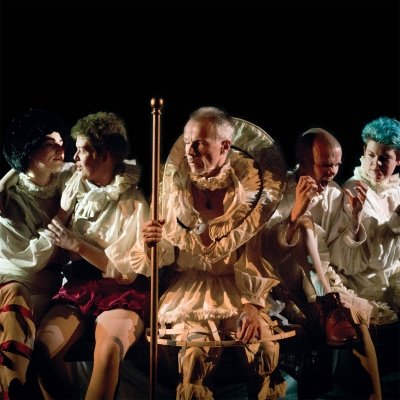 Some simple instruments which were played by some of the multi-talented cast and crew added to the atmosphere – at times I truly believed we were in Constantinople and then back at an Elizabethan court. It was a treat to hear background music used to such effect; at times it washed over me and I scarcely noticed it, before the musicians brought it back to the fore to deliver an impact.
The props and costumes were minimal but used to maximum effect – whether creating a Queen in her court, an androgynous Russian ice skating over the Thames or a woman driving a car through London. The illusions that were created packed the punch of a much more equipped stage, due in no small part to the creativity and skill of the cast.
On the themes explored in the play, it struck me that while Virginia Woolf penned the original novel over 90 years ago, it could have been written yesterday. Issues of gender identity, love and the inequality between the sexes have perhaps never been so prominent as they are right now, and you could believe that this was a piece developed in reaction to the current mood music. Orlando reflects on what it is to know the secrets and the weaknesses of both sexes, and how we must learn to live in the present – messages that will definitely resonate with a modern audience, especially when viewed through a 21st Century lens.
Orlando is part of the Camden Fringe and runs until 4th August – and comes highly recommended for an evening of engaging and jubilant theatre. https://www.camdenfringe.com/index.php?id=1
Reviewer: Zoe Meeres
Reviewed: 31st July 2019
North West End Rating: ★★★★