The show opened with the shows title song Lets Hang On, followed by a brief narrated introduction of the origins of the band complete with Joe Pesci reference, At this point I concluded that it was just another Frankie Valli and The Four Seasons tribute band, providing a 'discount version' of the Jersey Boys. With Stephen James as 'Frankie' opening the show with a call to the audience to sing and clap and dance....
As a regular to St Helens Theatre Royal spanning several decades, I can honestly say that I have never seen anything like it! I felt like I was at a Frankie Valli gig! The audience surprisingly comprised of a range of ages from 20s upwards and the Theatre was packed to the rafters. I was sat in the circle, the down side to this was that I couldn't see the screen that was showing images and seemed to be accompanied by various sound-bites about The Band's journey. From experience being sat 'in the Gods' usually dampens the stratosphere, however, the audience exceeded James' request with everyone singing, dancing and clapping. The atmosphere was electric...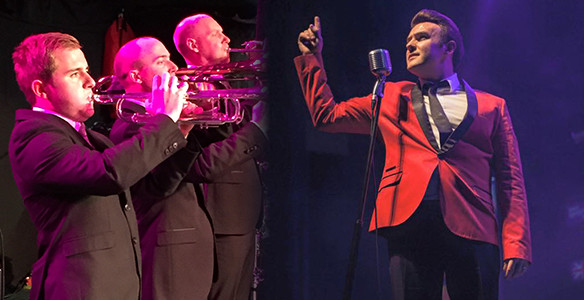 It was clear that the audience were fans of the Frankie Valli, most of whom have probably never had the chance to see the real deal, the evening did not disappoint. For those who were perhaps a little too young to be a fan at the time the evening was equally as enjoyable...I knew a lot more songs than I realised and it was interesting the number of songs that were also covered by other artists.
Songs included Let's Hang On, Bye Bye Baby, Big Girls Don't Cry, Rag Doll, Who Loves You, Loneliness, Walk Like a Man, Sherry, Can't Take My Eyes of You, My Eyes Adored You, December '63, Grease! With a reprise of Let's Hang On, to end the show with a standing ovation.
The band comprised of a team of horn players and drummer in addition to the main 'Four Seasons', each musician was very talented, and each got the chance to do a solo to showcase these talents.
The trio of horn players were entertaining in their own right, doubling up as backing dancers they were often out of sync but clearly enjoying themselves as much as the audience.
There were numerous changes of costume, with Jay Harrison stepping in to sing and narrate whilst Stephen James changed, each costume reflected the style of the era that the song was performed in, and each being more glamorous than the one before. Effective lighting all adding to the ambiance and feeling more like a gig than a tribute show!
On leaving the show the band were in the foyer with fans queueing up the stairs for their signatures. Everyone left with a feel good factor, making this a must see show!
Oh what a night!
Reviewer: Elaine Hardie
Reviewed: 13th May 2017
North West End Rating: ★★★★★