During the First World War, scores of men who refused to fight were court-martialled, imprisoned and ostracised. More than 100 years later, this remains a sensitive subject, especially around the locations where these men were tried and incarcerated. Refrain is an immersive, choral experience being undertaken at three sites of historic significance in the story of conscientious objection with performances devised with and performed by local male singers of all ages.
In St Helens, Merseyside, school teacher, Ernest Everett, was arrested due to his refusal to undertake combative service in 1916. He was court-martialled and sentenced to two years' hard labour, the first conscientious objector to receive such a sentence. Over the next few years, he was sentenced seven more times, treatment that likely contributed to his early death shortly after the war had ended. Here, Everett's story, symbolic of many more cases of this kind, is given voice once again.
Meeting at the Masonic Hall, a building often closed to the public, we explore the ground floor as we follow the song into different rooms and spaces before following the voices into the surrounding George Street Quarter where the choir break into smaller groups as we alternate between different historical spaces, each with a relevance to peace, before we reunite in the oldest building in St Helens, the Friends Meeting House, in a fitting tribute to the men who refused to fight.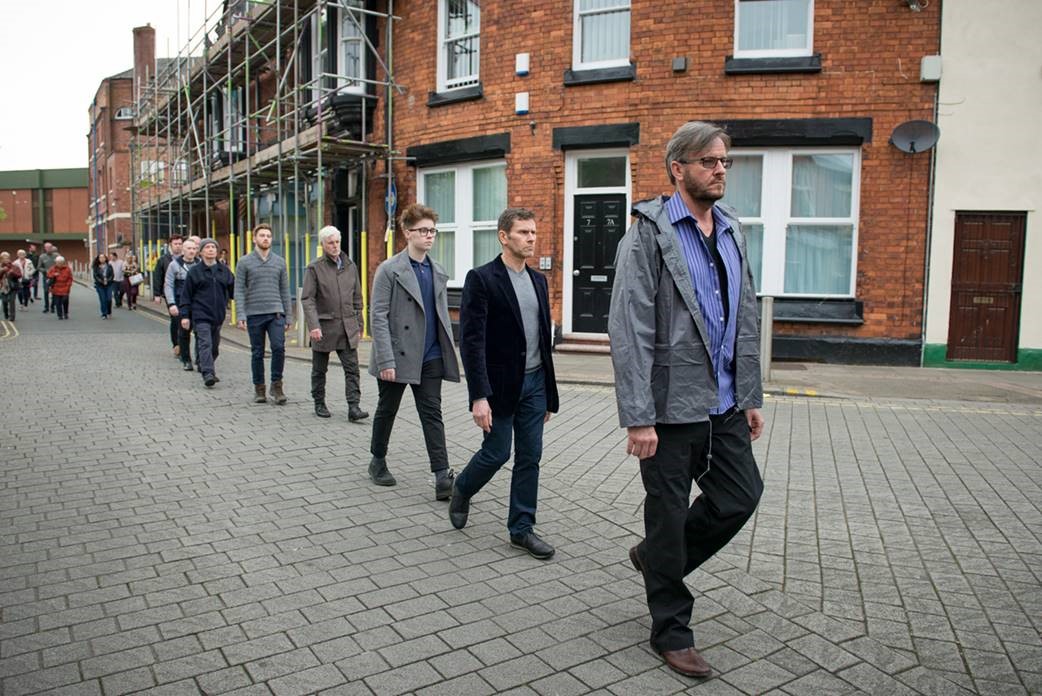 This is an immersive production and we are encouraged to mix and mingle with the singers throughout in this unique choral performance, which in its own way then provokes in each of us a very personal response. In some instances, one can imagine the multi-voices of men being marched off to who knows where; in other aspects one can sense the competing voices in Ernest's mind as he came to terms with his containment under immense pressure. Equally the harmonies reflect the many different convictions – political; religious; conscience - that led these men to abstain. There is a sense of lament and sorrow interspersed with confusion and disturbance followed by a sense of calm and peace as these struggles, in all their guises, end in this very moving piece.
Singers: Phill Campbell, Mel Carvell, Chris Dancer, Lee de Pablo, Olly Ford, Mark Flannery, Richard Jacques, Thomas Lang, Ste Littler, Anthony Shea, Brian Shortall.
Ensemble: Edward Wren, Harry Humberstone, Robert Thumpston, Robin Paley Yorke.
My personal thanks to Verity Standen, Lead Producer Georgina Bolton, Director Claire Doherty, and Brian Shortall for their time afterwards.
Refrain is composed and directed by Verity Standen, an award-winning artist, composer and choir leader, whose unique work with voices has surprised and enchanted audiences across the UK and internationally. From intimate concerts to immersive theatrical experiences, Verity's work seeks to reimagine how audiences experience vocal music. Further details veritystanden.com
Refrain is produced by Situations with Verity Standen Projects, in association with Heart of Glass, the Attenborough Centre for the Creative Arts, and English Heritage. It is generously supported by Arts Council England, Joseph Rowntree Charitable Trust, the Jerwood Charitable Foundation, The Space, and the Heritage Lottery Fund.
Refrain was first performed at Richmond Castle, North Yorkshire in April 2017.
It is being performed in St Helens, Merseyside on Saturday 20th May, 4pm and 6pm, and on Sunday 21st May, 1pm and 2.30pm.
It is next performed in Newhaven Fort, East Sussex on Friday 9th June, 7.30pm and 8.45pm, Saturday 10th June, 10am, 11.30am and 1.30pm, and on Sunday 11th June, 11am and 12.30pm.
Further information and ticket details available at www.refrain.online/
Reviewer: Mark Davoren
Reviewed: 20th May 2017
Photo: Wesley Storey, courtesy of Situations