Well, as they say keep it in the family. That's what they've certainly done with A Spoonful Of Sherman that is currently on its premiere tour of the UK & Ireland, celebrating 100 years of The Sherman Family over three generations through beautiful song displaying some of their finest work, up to present day. It's a first for myself and it did not disappoint at all as it may be A Spoonful Of Sherman but it was an earful of perfection.
It's narrated live by the talented cast of 5 with great articulation, who take us through the journey of The Sherman family and it does exactly what it says on the tin as we are treated to those songs we all know and love including; Chitty Chitty Bang Bang, Supercalifragilisticexpialidocious, A Spoonful Of Sugar and Lets Go Fly A Kite among many others. It's described as 'The Songbook Of Your Childhood' and although I only knew the later and more popular songs it was a joy to learn about the Sherman's and their works throughout the years especially with Walt Disney - it was simply done but executed well.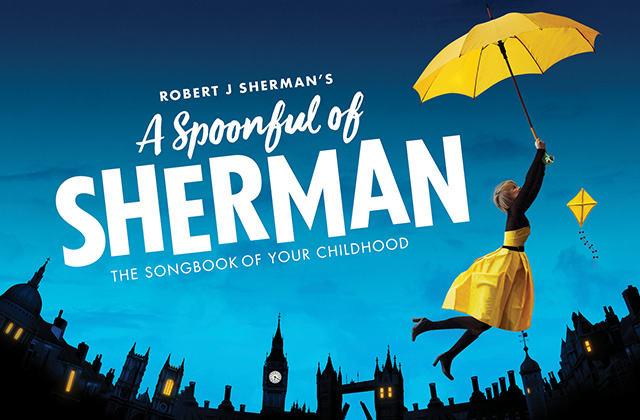 A round of applause is needed for Casting Director, Amy Beadle who has handpicked 5 absolutely beautifully talented vocalists. It's very rare to find voices that blend perfectly together and usually there is a weak link - but tonight it was the strong harmonies that stood out a mile for me and that will hopefully give this production the recognition it deserves. It wasn't too much and it wasn't too little...it was vocally stunning and I could have had listened to them all sing the phone book. Not only collectively but individually they HAVE to be commended. Sophie Louise-Dann brought a powerful and engaging performance on the stage tonight and at times I felt slight hints of Bette Midler (if that isn't a compliment I don't know what is) in particular her renditions of Tell Him Anything from Slipper & The Rose and Feed The Birds - you can definitely see why this woman was an Olivier Award nominee and although against Sheridan Smith and Amber Riley, who took the title she certainly had to be the next in line with the vocals I heard.
Jenna Innes provided a beautifully sweet vocal ability and the fact she only graduated last year tells me that this is a name we should all look out for in the future. Glen Facey is a charismatic vocalist with a showbiz smile that could melt the coldest of hearts in the audience, I particularly enjoyed his rendition of You're Sixteen, You're Beautiful, And You're Mine but unfortunately I'm none of them. Mark Read is equally as charming providing smooth tones and considering he's a member of A1 he done well to hide the 'pop' in tonight's performance. Ben Stock impressed with his piano playing ability but then shocked me with his vocal & character ability and it's good to see the versatility in Stock particularly in 'Crackers' from Love Birds (which was one of my favourites) to Hushabye Mountain which was sang beautifully. Overall, a perfect casting decision for A Spoonful Of Sherman.
It has to be mentioned that there appeared two technical problems tonight. Once appeared in Act 1 where a slight muffling or interference was coming through somebody's microphone and once at the beginning of Act 2 where somebody forgot to switch on a microphone - but I can forgive this as the projection in their voices was enough and I had to fault something.
The Sherman Brothers might have said that a song must be Singable, Sellable and Sincere. But, A Spoonful Of Sherman is Stylist, Slick and Superbly Sang throughout. If you get a chance to see this production I wouldn't hesitate as I hope this gets the recognition it deserves.
A Spoonful of Sherman continues at the Theatre Royal until the 28th February 2018 and on a UK tour until June. http://www.aspoonfulofsherman.com/
Reviewer: Daniel Cox
Reviewed: 26th February 2018
North West End Rating: ★★★★★