I have never seen a Centenary Theatre Company production before but do know of the outstanding work that Kit Phillips and Dan Ritcher do as directors of First Act, so my son and I were very excited to see this performance (us both being mad musical fans to boot!).
On entering the theatre and reading through the programme we were then aware of how privileged we were to see this performance as 'Strictly Musicals' had dedicated these shows to Centenary's former Musical Director Malcom Fallows who had died suddenly in 2016. How wonderful to be remembered and honoured this way. So, as we sat in a packed auditorium of the wonderful Brindley Theatre in Runcorn there was a definite 'community' feel to the opening night with the anticipation of First Act's first public appearance and their first opportunity to share the stage with the renowned drama troupe in such a momentous event.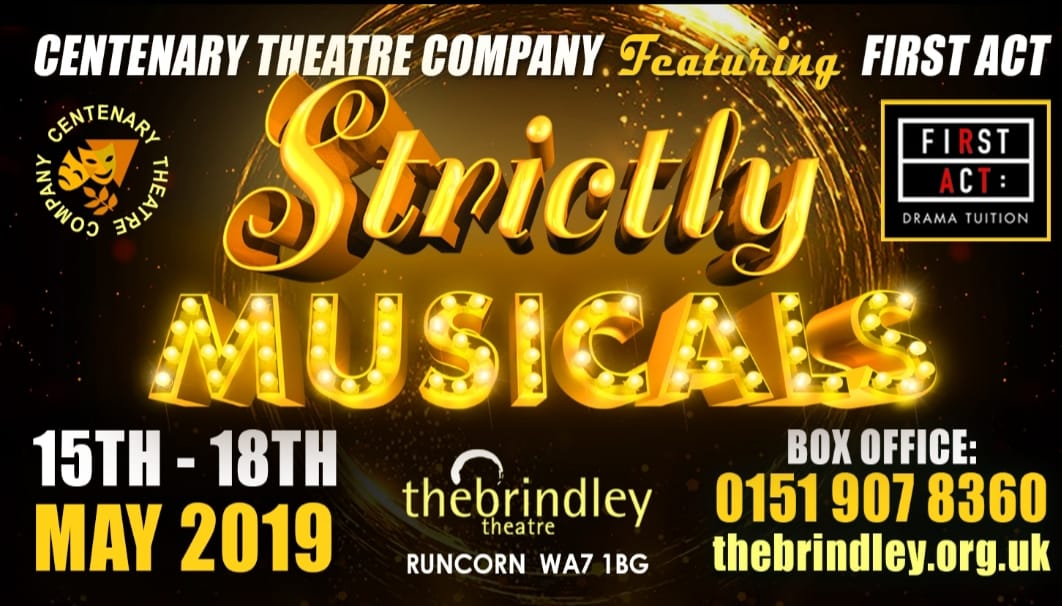 The show started with the stage set with a full orchestra, conducted by the brilliantly talented and dedicated Simon Pickup. A full orchestra always makes an audience gasp, and this was no exception. The clear screen showing the "Strictly Musicals" emblem was replaced with the list of songs to be performed under the banner of 'Disney on Stage'. We were introduced on screen to the late Malcolm Fallows through clips of the 10 years he had worked as Centenary's Musical Director and this was a very heartfelt display of their devotion to both him and the company.
The Centenary cast walked on stage proud, confident and happy. An array of people from all ages, experiences and destiny's whose love for what they were doing shone from their very first note. The songs from the Lion King, Beauty and the Beast (sung sublimely by two ladies Pat Jackson and Anita Warburton), Mary Poppins, The Little Mermaid (exceptional), The Hunchback of Notre Dame (jaw dropping!) and Newsies were sung and danced to (the gymnastics were brilliant) with sheer talent that enticed and immersed the audience into another world immediately. All the dance routines had been choreographed by members of Centenary (which is a wonderful opportunity for the cast) and this section was choreographed by the very talented (I may be writing that stage a lot in this review!) Kirstin Dunn.
Moving onto 'West End Kids' it was the time for the 'little ones' to shine and how they did! We were shown footage from their rehearsals – which was lovely to see and an ingenious addition to the show. The performances were superbly choreographed by their First Act member Ceris Shadwell and again was stunning work. The 'First Act' youngsters entered the stage with gusto - dressed in bright colourful t-shirts and gave us their renditions from shows Matilda, Whistle down the Wind, Bugsy Malone and Billy Elliott and displayed sheer awesome talent, impeccable timing and great character. As the 'grown ups' joined them for the finale 'Naughty' from Matilda tears were welling in my eyes. Amazing! Well done every single one of you!
We then were shown wonderful renditions of Hello Dolly, Fiddler on the Roof (Matchmaker – done so well), Sister Act, The King and I (sang wonderfully by Sheila Cummins – made my heart melt), Gypsy and Titanic and every time I thought 'wow what a singer!', another cast member would knock my socks off and show the same exceptional talent - Lisa Conner, Olivia Prior and Peter Brennan – to name a few. The whole stage felt like a family reunion and the closeness of the cast, their love for each other and what they do oozed from every pore, every note and every step and they carried us the 'in awe' audience into their fold with every new encounter. I left for an ice cream and drink in the interval reluctant to leave my seat and wanting simply to stay and soak up more of this wonderful evening. More insights into how the Centenary crew practice was again a lovely touch and another lovely way and bringing us into their family. This was wonderful.
The second act started equally as energetic and passionate with the 'Screen to Stage' set starting brilliantly with a superb performance of 'All that Jazz' from Chicago, then Chitty Chitty Bang Bang, Shrek (fantastic – Peter Brennan) Little Shop of Horrors, the Witches of Eastwick, The Producers (led by the brilliant James Gibbons) – skilfully choreographed by Jo Novoa Bradley. I never wanted this night to end. Next the ensemble gave the audience the opportunity to hear some not as well- known musical numbers under the banner of 'Musical Hidden Gems' singing songs from Hair, Side Show, Sunday in the Park, Follies and Children of Eden again performed with perfection and choreographed with style by James Gibbons. And so, to the final medley – (oh no!). I felt the shoulders sag a little in the theatre as we all knew that that the show was coming to an end – but what an end! The 'Broadway Blockbusters' was their 'finest hour' with exceptional songs from A Chorus Line, Miss Saigon, Wicked, Cats (brilliant – 'Memories'), 42nd Street, Phantom of the Opera and climaxing with the outstanding Les Misérables 'One Day More' – that blew the roof off!
This show was superb. I couldn't fault anything. The cast had no props just sheer talent, excellent choreography (well done all!) amazing voices, energy, passion and creativity. The producer Dan Grimes, the choreographers Kristin Dunn, Helen Gorry, Jo Novoa Bradley, James Gibbons and Danielle Segar, the First Act team Kit Phillips, Dan Ritcher and Ceris Shadwell, all the amazing orchestra, (especially Simon Pickup), every single member of the outstanding cast both Centenary and First Act should be immensely proud of what they have achieved with this stunning performance. I hope every night is as amazing as it was for me and well done on this magnificent success! I can't wait to see another Centenary production.
Reviewer: Jan Mellor
Reviewed: 15th May 2019
North West End Rating: ★★★★★