I'm probably a comedy shows nightmare as I rarely laugh out loud although inwardly I can be, tonight was a first for me and joining those laugh out loud moments were tears of laughter. This stellar cast worked their tiaras and veils, Stetsons and boots off in this fabulous laugh a minute musical comedy. Cleverly written by Emma Culshaw and David Paul to incorporate many country classic songs known to the audience, it couldn't fail to have everyone clapping and singing along from the start.
Dolly's Dream Dresses is a bridal shop owned by glamorous Jolene (Radio City star Leanne Campbell) her gay twin brother Sue.....yes Sue! (DannyTaylor)) and capable assistant Faye (Olivia Sloyan). Hands up those who have spotted a couple of song titles already! There are no scene changes as the whole show is set inside the blingy and pink boutique shop which is the place to go for brides of all ages, genders and requirements. With nightmare customers, can anyone achieve the perfect wedding day with the gown of their dreams or will it all go disastrously wrong?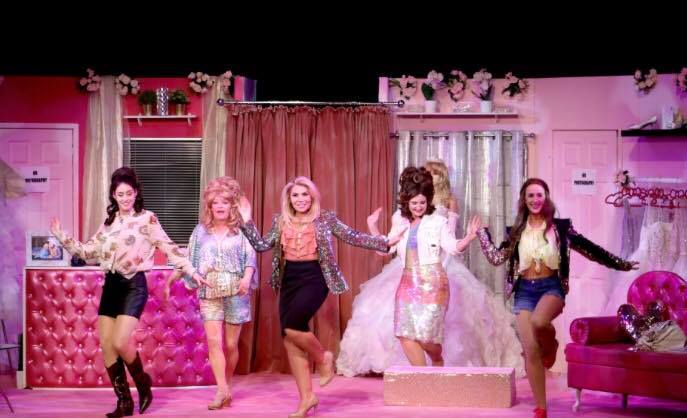 Having relationship problems of their own how can lovelorn Jolene be happy for others to reach the altar after being dumped herself by American Hank Reynolds (Joshua Ford)? Sue is pining for Mikey (drag queen Divina De Campo) who is working abroad and just informed him of a further two months before returning and poor Faye doing her best to help out her partners gambling addiction and other problems to boot. Taylor is ludicrously camp and gives an excellent performance.
As a stream of brides enter the shop with an entourage of family and friends with very different ideas on the ideal gown one of the most outrageously funny moments has to be the when naturist bride-to-be Tara (Crissy Rock) meets Hank, my favourite Elvis song of 'Always on my Mind' will never be the same again! Special mention has to go to Divino De Campo if only for the ability to walk and dance on the ridiculously high killer heels as Beathless, looking for wedding outfits for every moment of the day and for her performance of 'I feel Like a Woman', a totally apt song for one of the UK's premier drag artists. It was only at the finale when I saw 'she' wasn't there that I realised he also played the part of Mikey, an amazing transformation. Emma Vaudrey and Jenna Sian O'Hara along with Crissy Rock star in numerous roles and are without exception, brilliant in them all, I'm not going into detail as this is a show you need to see for yourself.
Presented by Regal Entertainments and Produced by Chantelle Nolan (Manager of the Theatre Royal) Jane Joseph and Directed by Sylvie Gatrill this adult comedy is bound to leave you wanting more. Many of the songs are accompanied by line dancing choreography (Sarah Walker) and it looks so much fun you want to join in. There isn't a dull moment in the whole show and although the songs are predictable the laughs flow continually, there couldn't be a better cast for this show and you would be 'Crazy' to miss out on it. I can't promise you a 'Rose Garden' but I can guarantee a hilariously funny, light hearted entertaining show. Continuing at the Theatre Royal, St Helens, until Saturday 8th June 2019, tickets are available at: https://tinyurl.com/y4tsftq6 If you are not able to catch it this time then be sure to hot foot it over to Liverpool where you can get the chance in October 2019. https://www.epsteinliverpool.co.uk/events/achy-breaky-bride/
Reviewer: Lorna Weekes
Reviewed: 5th June 2019
North West End Rating: ★★★★