I went along to see this play with some trepidation, as I have always loved the film version and not all films transfer well to stage. To take the story of six out of work steelworkers from Sheffield and transplant it to Buffalo, could have taken some of the grittiness out of the story. However, Buffalo, New York; has many similarities to Sheffield, with its crumbling steel and automotive industry causing poverty, this switch would have been relatable to US audiences. Given that the writer, Terrance McNally and the composer/lyricist are American, it begins to make sense as to why they would set the play on their home turf.
This is the first play I have had the pleasure of seeing at the Daneside Theatre and produced by Trinity Operatic and a lot of work has gone in to make this production an absolute joy to watch.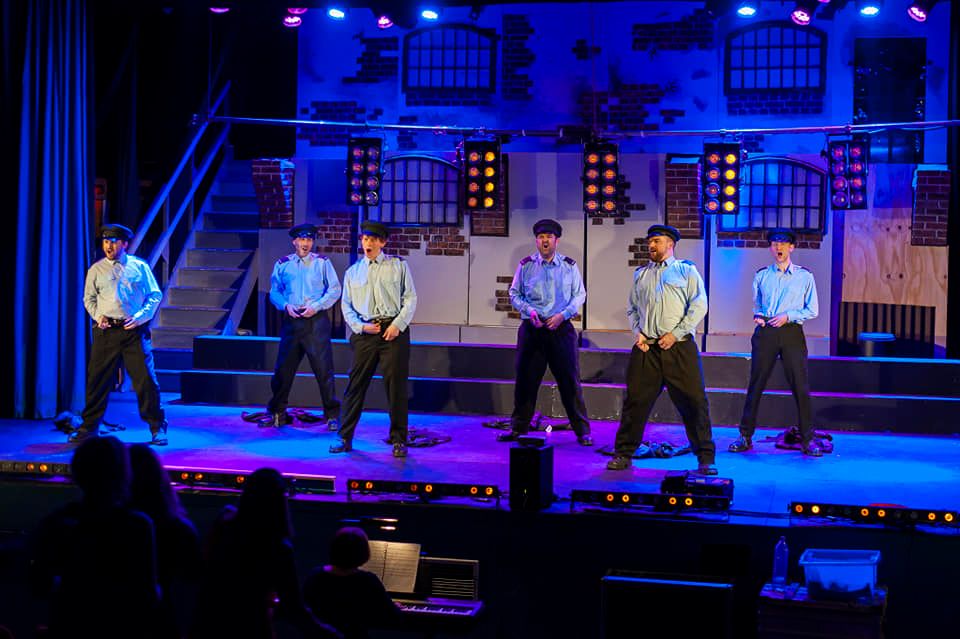 From the outset, first impressions from hearing the Overture, is that it is wonderful to hear a live band playing such rousing music so well, under the musical direction of Marilyn Blank. This set the standard for the play as a whole. As the curtain went back, the wonderful set re-affirmed the attention to detail by Stage Manager Jack Thompson and crew.
For those who have not seen the movie, Jerry and his friend Dave are out of work ex-steel workings living in a low employment area called Buffalo. After seeing the crowds of women paying $50 each to see some male strippers, they decide to have a go themselves. After recruiting four more guys, they start to concoct a plan of action. The storyline loosely follows the movie, and it was impressive to see that there was no cutting corners with the scene where they meet Malcolm (who was sitting in his car), the security guard from the factory; the stage management did not try to build a model of a car, they put a real car on stage.
The characters in the play can in part be attributed to the excellent writing from McNally, but the character of Jeanette (Janine Royle) was wonderfully sassy, Jerry played brilliantly by Simon Matthews and certainly captured the essence of 'Gary' from the movie. Other standout vocal performances came from Simeon Green (Dave), Alex Bingle (Harold) and Vicki (Louise Colohan) and whilst the musical composition wasn't necessarily a platform for the operatic voice, these members of the cast gave us an inkling of their voice ranges. Oliver Lamont who plays Nathan adds a wonderful exuberance and shows some excellent acting ability for someone so young.
There is a lot of choreography and some of it quite difficult and for the most part I felt the cast managed to pull it off, although I felt that the scene at the dance class could have been a bit tighter in its execution, but overall Liz Cardall has done a marvellous job managing both choreography and also directing the play.
Congleton, you have until 14th March to support your local theatre. This is a tip top production of a hilariously funny musical and you will not be disappointed. To buy tickets go to http://trinityaos.co.uk/box-office/ or https://www.ticketsource.co.uk/venue/EIDIIJ
Reviewer: Caroline Worswick
Reviewed: 9th March 2020
North West End UK Rating: ★★★★