On a buzzing Saturday night in Liverpool, the city was treated to the presence of one of their most celebrated entertainers, whose success and quick-wit was part of a great generation of comic talent for the country.
Stan Boardman, back in his home city, hosted a brilliant and fantastically funny journey through his life as a child and growing up; his path to a successful career as one of our best-loved entertainers and comedians; some great company in a close, long-standing friend as part of the show, and there was even surprised on the evening by a special guest from his past.
Not only was the Epstein Theatre packed on the night but, as the audience soon found out, Boardman was also entertaining visitors from other parts of the globe, including people from the likes of Poland and Australia.
Before he came on for each of the two acts, he was preceded by his old friend, Johnny Kennedy. The former Radio City FM DJ treated everyone to some brilliant and powerful renditions of some classic operatic and soulful songs to keep everyone in the best of moods. These included an excellent performance of Nessun Dorma and a song from one of his big singing inspirations, Al Martino.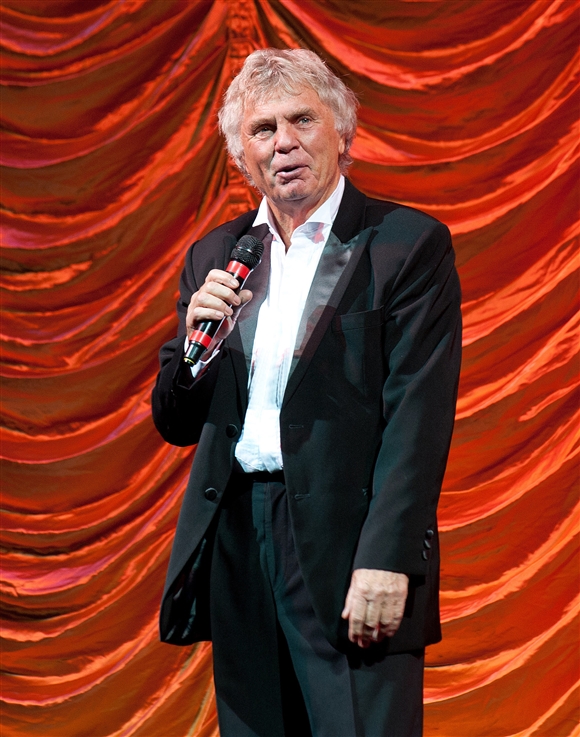 As the main act, Boardman was in a class of his own, taking us on a comedy-filled voyage through his childhood growing up in Liverpool playing 'kick the can' in the street, right through to the topics of health, married life and, of course, as an avid Liverpool FC fan, football!
However, the performance was not simply an autobiographical piece. Stan took us through the rock 'n' roll scene of becoming a young comedian and how, thanks to dedication and talent, he became the comedy icon that he is known as.
His reminiscences from his comedy work on television, including the infamous interview with Des O'Connor, and his appearances on the TV Show 'The Comedians', were shown to the audience on screens placed on-stage.
This gave a chance for any audience member unfamiliar with some of Boardman's on-screen endeavours to see it for themselves. These comedy flashbacks on-screen, coupled with Boardman's lightning-fast comic jibes, meant there was little time throughout for anyone to catch their breath.
Mr Boardman opened up parts of the performance to the audience themselves, allowing the public to ask him questions about everything from his own past at school and the characters he met in the industry, right down to the most recent transfer talk at Liverpool FC and what modern-day football needs. He proved not only a stand-out entertainer, but a witty and gracious host to those who attended, welcoming the audience into the funny and wonderful moments of his career and his opinions on issues and subjects from now and back then.
One of his big breaks in the industry was on 'The Comedians', which gave exposure to some of the up and coming comedy stars of the time, many of which are some of our most celebrated entertainers both past and present, and it was from this chapter of his past that he was given a very pleasant surprise on the night.
After only finding out fifteen minutes before the start of the show, Boardman was joined on-stage by his old producer on The Comedians, Johnnie Hamp. Mr Hamp pioneered the idea of bringing working-class talent to the TV show, and it was this inspiration that became the foundation for some of Britain's great comedians, including Boardman himself.
His appearance may only have been for a few moments, but Mr Hamp showed some great wit and jest of his own, an example of not just his eye for spotting comedy, but delivering it as well.
As a laugh-out-loud performer and all-round exceptional host for the audience, Boardman was able to prove why he was one of those gold-star comedians from a gold-star generation of entertainers.
It was not just his quick and hilarious wit that grabbed the audience during his recollections, but also as it felt he almost directly injected the humour into the public themselves when answering questions from a lively and eager crowd.
Stan Boardman proved on Saturday evening not only what the famous wit of the people of Liverpool can do to entertain, but also what classic, genuine and intelligent comedy can make for a truly splendid evening. He, along with many comedians of his generation from across the UK, are beacons of what true entertainment is.
The whole night made me only wish one thing differently… that I was born younger to witness comedy back in that age!
Reviewer: Robert Pritchard
Reviewed: 15th July 2017
North West End Rating: ★★★★★