There was a real buzz in the Royal Court Theatre this afternoon. It was partly the free bar but it was mostly because representatives of the press, performers and organisers had gathered to launch Liverpool's 16th Comedy Festival.
Whilst waiting for the presentation to begin we became aware of clown-like figures running around the room. One of them was playing an accordion, two of them had targets around their faces whilst the fourth figure had large comedy breasts from which she was squirting water! It was Teatro Pomodoro, one of the surreal comedy performers in the festival.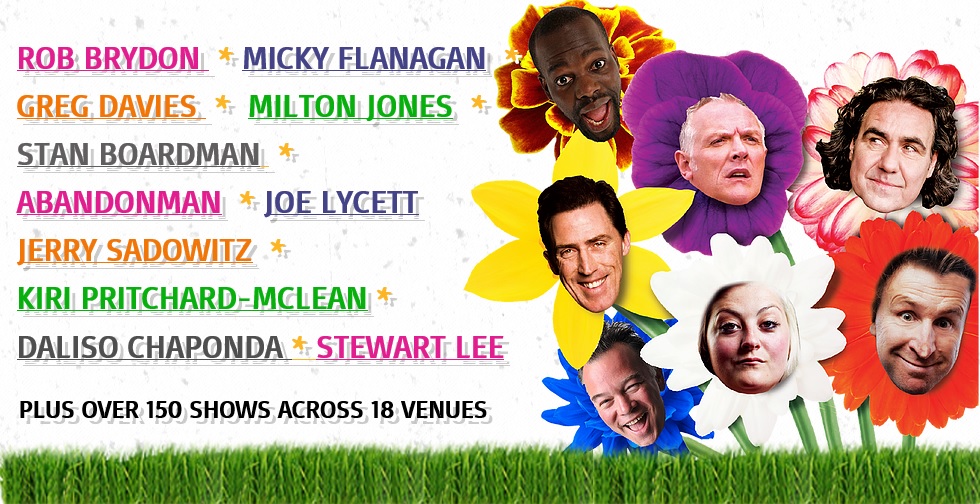 Sam Avery, the Festival Artistic Director, took the microphone and informed us that this year's event would be the largest yet. Over 150 shows in 18 venues found across the city, with the the biggest selection of performers; demonstrating a huge variety of styles that are part of the current comedy landscape. Sam passionately encouraged those visiting the festival to look out for the smaller acts and those performers who are 'up and coming'. Reminding us that the likes of John Bishop (2002), Peter Kay (2003) and Alan Carr (2003) all had shows in the festival at its genesis, when they were relatively unknown.
This year has many well-known headliners: Welsh wise-cracker Rob Brydon, the giant of giggles Greg Davies, the side-splitting surrealism of Milton Jones, and the coquettish comedy of Joe Lycett - to name but a few. One of my personal recommendations is Abandoman, comic Irish hip-hop at its best, I saw them at the Edinburgh Fringe, amazing!
Much like The Fringe, several of the shows don't have a ticket price but instead ask you to pay-on-exit. An opportunity to see new comedic talent on a limited budget. This festival literally has something for everyone. And if it's online content you like, then look no further than www.thecomedycrowd.com - one of the partners of the Festival this year. Jonathan Jayson spoke on their behalf, explaining the aim of the group, which is to encourage comedic innovation and to give new talent a platform. We then saw some examples of this, labelled as "Chorts" - short comedy films of 2 minutes in length. If that's your thing then take a look.
There is too much to tell you in this short article, if you love comedy in all its forms, if you want to try something new or if you want to discover a new talent check out https://www.liverpoolcomedyfestival.com/brochure for more details about the performers and shows.
The Liverpool Comedy Festival, organised by The Comedy Trust, runs from 15th September until 1st October. In addition, come back to the North West End website as we continue to celebrate this marvelous menagerie of mirth!
Reviewer: Alan Harbottle
Reviewed: 1st September 2017