Well, St. Helens came out in force tonight to support comedian Milton Jones in his new tour 'Milton Jones Is Out There' with only a few empty seats at the rear of the circle. Appearing on Mock The Week and Michael McIntyre's Comedy Roadshow, Jones is no stranger to the crowds and he is certainly in demand as last year he had to add 48 extra dates onto this current UK tour. Luckily, he did not disappoint when he was in St. Helens Theatre Royal tonight.
Before the show started tonight (and during the interval) we was treated to a collection of songs to keep us company whilst we took our seats. Including Sweet Caroline, Fernando and Me & Mr Jones which Milton decided to cleverly add his name into in a recording. But, although it was amusing there's only so many times you can hear the 'SWEET MILTON JONES' before it becomes tedious - but I managed to block it out.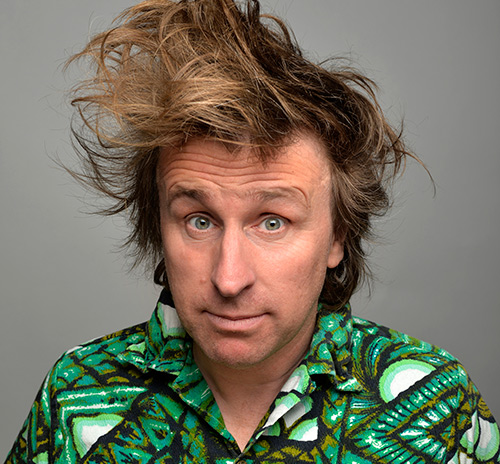 Supporting Jones in the first half tonight we have award-winning Chris Stokes. A confident delivery from Stokes tonight and he created a quick relationship between himself and the audience, which added to his set. Personally, it wasn't my particular style of comedy and although a good range of jokes I would have liked a quicker delivery of them as I felt he had a lot more to give and at times it became a little predictable as what was coming next - but nevertheless the crowded seemed to enjoy him.
Entering the stage dressed as the United Kingdom seems a completely daft concept...and it was. But in true Milton Jones style he pulled it off literally, starting the night with a tear-away of Scotland to portray the Scottish referendum. It's hard not to like Milton, his extra dry delivery of puns-galore had the audience and myself in hysterics - I particularly enjoyed the one about his sister and the combine harvester which I had to stifle my laugh for the next several minutes as it tickled me that much but he kept on bringing them. Also, there's nothing I enjoy more than a 'heckler' in the audience (for comedy shows only) and St. Helens provided a few tonight and I think you can tell a lot about a comedian by how they handle them and Jones did it with perfect execution and humour, not letting it distract his set once and cleverly incorporating it into new jokes. Besides the hecklers, Milton also gave the opportunity for the audience to decide the subjects he talks about at points in the show and it was like he just opened a mental filing cabinet, pulled out his material and executed it with more dryness than Atacama Desert (which is the driest in the world). Focusing on topics such as politics, family and childhood you could it had been cleverly written. I loved the 'Himalayas Hermit' sections to support the flamboyant choice of clothing tonight and yet again another favourite of mine was the babysitter falling through – it's a good job I have such a strong pelvic floor otherwise my seat might have been soiled. A bin, a projector, a bird feeding stand, a telephone and a stepping stool accompanied Milton tonight and it all worked cleverly into his routine.
Overall, if you enjoy puns and think you've heard them all then prepare yourselves because Jones brings comedy by the bucket load. Eccentric hair, a flamboyant shirt and a polished comedian. What more could you ask for?
http://miltonjones.com/live-dates/
Reviewer: Daniel Cox
Reviewed: 22nd February 2018
North West End Rating: ★★★★