Robert White is on the sixth leg of his debut UK tour 'The Tank Top Tour' at Salford's Lowry Theatre before he continues the tour visiting venues in Crewe, Birmingham, Whitley Bay, Billingham, Lowestoft, Westcliff-on-Sea, Cannock, Southport, Inner London, Poole, Eastbourne, Harrogate, Huddersfield, Redditch, Aberdare, Kings Lynn, Bromley, Chesterfield, Swindon, Shanklin, Bridlington, Leeds, Chelmsford ending on the 28th April 2019 in Dartford.
Robert White aged 41 is a stand-up musical comedian from West Sussex who leapt into the limelight following his appearance in the 2018 show Britain's Got Talent' where he made it to the finals with his stand-up routines, quick timings and unusual trademark of bold and vivid tank tops - hence the name of his debut tour. Although White did not win the 'Britain's Got Talent' it helped to highlight Robert's distinctive individual musical stand-up comedy, where he has managed to corner a niche market describing himself as "the only gay, Aspergic, quarter-Welsh comic on the British comedy circuit".
His routines have received over 3 million views on YouTube and he has over 8 thousand followers on Facebook for his debut tour including 35 thousand followers on Twitter winning him legions of fans across the UK and beyond.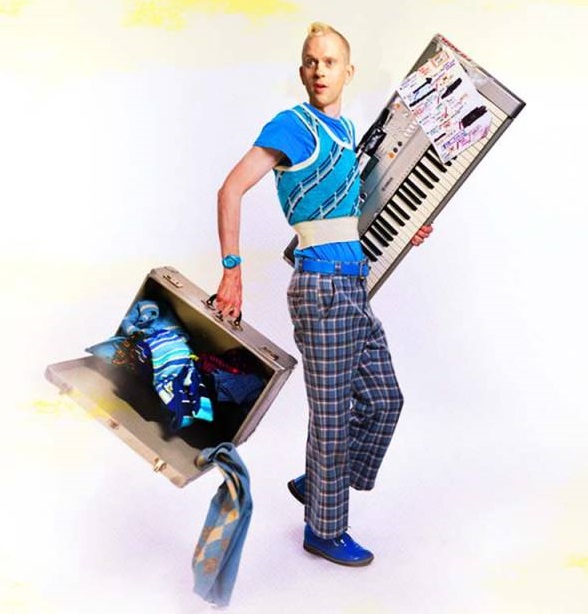 Having Asperger's has not stopped Robert White in his career if anything it has enhanced his laser-sharp focus on what he loves comedy and music, however this was not always the case as he has had altercations with the law following a prank that went wrong and was also pushed on live TV from a rapper due to White's mislead social cues.
The evening started with Joe Bor warming up the audience for White in the second part, Bor a filmmaker, cartoonist and comedian currently has a new DVD on sale and used this opportunity to promote his talent whilst getting to know the audience. Bor told jokes and stories about Porn, Marriage, Parentage, fitness, stag do's and holidays interacting with the audience throughout his 25-minute session. It is difficult doing stand-up in a traditional theatre setting and this seemed to be the case for Bor as some of his jokes and stories fell a little flat and at times, he was desperately trying to engage stumbling over his words and repeating himself, however overall he did well for this difficult slot. You can follow Joe on Instagram @joebor1 and Twitter @josephbor if you're interested in his progression as a comedian etc.
After a short break Robert White graced the stage dressed in his infamous orange tank top and chequered trousers with keyboards at the ready, having never watched 'Britain's Got Talent' I had no idea what to expect from this performer, but it was clear that the audience was filled with avid followers of the comedian. White's jokes were mainly directed at his Asperger's/Autism and the fact that he is gay, concentrating on issues and tales around both subjects, his skills on the keyboard are undoubtedly his strength as he easily created songs and melodies throughout his act. Unfortunately, they were all very crude and very risqué with songs such as 'anal gang bang', which was ok in a small amount but every melody, was vulgar around being gay and sexual acts. On balance he did have some great jokes around 'Britain's Got Talent' winner 'Lost Voice', clothes shopping, Primark and religion and he clearly is a fantastically talented musician but personally for me his line of jokes and storytelling are a little too tunnelled and need a variety of humour to fill the evenings space. As for the longevity as a gay and socially awkward blinkered comedian I'm not convinced I will be seeing many more of his tours in the future, however he clearly is currently in the public eye and popular following his appearance on the talent show and continues his tour visiting several venues before ending in Dartford at the end of April.
Verdict: "fantastically talented musician who is clearly in the public eye and popular following his appearance on the TV talent show"
Reviewer: Katie Leicester
Reviewed: 20th February 2019
North West End Rating: ★★★