The art form of the one liner in comedy is one which has to be masterly crafted and honed; one such 'master' of this is TV comedian; Stewart Francis whose latest tour, 'Into The Punset' is currently touring around the UK but the tour is tinged with sadness as Stewart has remarked that this is to be his last live offering.
The comic, who won Dave's Funniest Joke Of The Fringe in 2012 and has made several appearances on Mock The Week, has been speaking about quitting comedy since 2013, saying he wanted to pursue his first love of being a cartoonist. 'Plan A was always to be a syndicated cartoonist but after getting rejection letters I shifted to Plan B, but stand-up – I've been there and done it now. I'm grateful for everything it's given me, including the chance to be what I always wanted to be – a cartoonist. It'll be a step back financially but personality-wise and creatively, a step forward as far as I'm concerned.'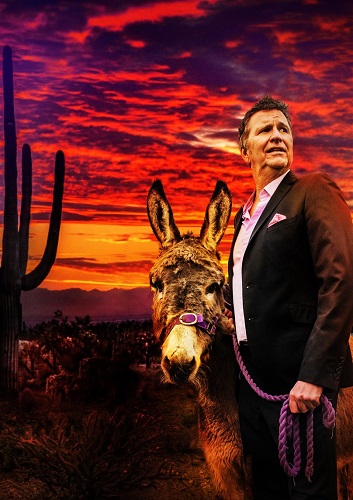 Francis obviously wants to end his stand up career on a high and this can be seen in the calibre of material for this latest tour, his last. Its jam packed with fresh, fast paced material which almost always hits the spot; occasionally the material is delivered so quick it takes a minute for the audience to catch up but he just works that into his routine.
Stewart's delivery style is most definitely dry and cold but his one liners and puns are still just as funny as when he first burst onto the scene and delivering the material as he does just works on so many levels.
Unlike situation comedy, practically anything can come up in his material, from the assignation of JFK to news reporter; Trevor McDonald - you never really know what's coming next. Francis also has a great skill in calling back jokes from earlier in his set and layering them with fresh gags; I mentioned earlier Trevor McDonald who features on many of his callbacks during this tour - each of which just gets funnier and funnier.
Into the Punset is a tour which sees Stewart Francis at the top of his game and it's a real shame for Stand Up aficionados that this will be his last.
Verdict: Dry, deadpan but wickedly funny!
Reviewer: Max Eden
Reviewed: 14th April 2019
North West End Rating: ★★★★