Headlining this comedy evening for the new Pride in Trafford five-day LGBTQ+ event, Tom Allen rounded off a night of witty, and genuinely funny, comedy from Bethany Black and Annette Fagon.
Opening the night, Bethany Black proved herself to be a real gem: she's the kind of authentic comedian whose intelligent material takes surprising turns. Her mainly autobiographic content is fresh, understated and can only be described as tragi-comedy.
While Bethany's self-awareness is as astute as Tom Allen's, she represents the opposite end of the self-confidence scale. Observations on her agoraphobia, appearance and sexuality are cleverly set up and honestly retold. Equal in likeability to the very contrasting Tom and Annette with their abundant energy, Bethany is a talent not to be underestimated.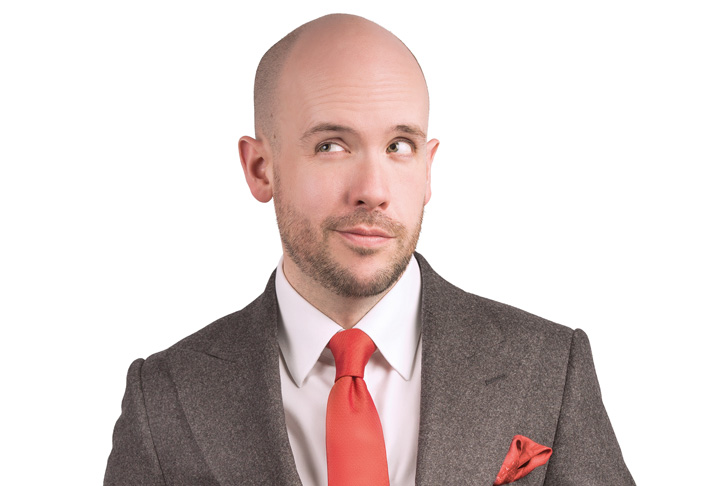 Tom is an all-round entertainer whose style is one of mock-outrage and almost continuous ranting. If he wasn't so instinctively allergic to sport, I'd suggest he takes up underwater hockey as he needs to come up for breathe so rarely. Laughs come as much from his delivery as from his content. Blasting out his fury at banal situations, he uses repetition and hyperbole to great comic effect.
Tom's performative superiority reflects the sass we all want to express--if we could get away with it--in daily life. These painfully accurate put downs are smugly expressed by a man who takes 'living fabulously' to a new level.
While some of the content may not be entirely original, the combined force of Tom's likeable personality and committed delivery make them entertaining and comfortable in equal measure. There is little controversy, minimal offense, and nothing much beyond the realm of mainstream opinion in his act. While the (hilarious and promising) Annette Fagon and Bethany Black acknowledge stereotypes more subtly, Tom highlights his adherence to working class and gay stereotypes with pride and awareness.
Annette Fagon is a naturally funny woman. She commands an audience with impressive flare and confidence for someone relatively new to the comedy scene – she is clearly at home on the stage. Boldly blaring through a range of topics, she jokes about not trusting an audience and them in turn not trusting her.
Annette's jokes revolve around diversity, racism and equal opportunities, though far from the way you might expect. Genius gags about applying for Arts Council funding raise a great deal of laughter; by the end of her act, no one is in any doubt that her sex life would tick all the boxes on an 'Equal Opportunities' form. With a personality like that, it's impossible to watch Annette Fagon and not want to be her friend.
In a similar way to Annette, watching Tom Allen leads to great relief when you realise you're not alone in your slightly evil reflections on the annoying people around you; Tom gives us license to bitch internally without judgement and laugh at our own superior opinions.
Tom's material is based heavily on his self-confessed extreme campness, relying on anecdotes both from childhood and adulthood to win over the audience. Feeling at home in a John Lewis store, he wears his stereotypical gay attributes with the most flamboyant pride imaginable and thankfully avoided the topic of internet dating, which is becoming a predictable topic on the UK comedy circuit.
Tom recalls a seemingly traumatic Hen Do where he was, shock horror, one of two invited 'token gays.' Extreme jealousy prevails and Tom is reduced to competing pitifully for the approval of this gaggle of women, throwing serious shade on the choice of each Hen activity. His high speed, highly accurate summary of a day-in-the-life of a teacher's mind is another highlight, packed with gags and hilarious observations of frazzled lessons.
All in all, the combination of these three talented comics will leave your sides hurting and is a great reminder for how important laughter is in everyday life.
Reviewer: Eve Ryan
Reviewed: 17th May 2019
North West End Rating: ★★★★