English Touring Opera is doing a sterling job in revealing the wonders of Handel's early opera, 'Radamisto', in an intelligent, beautifully staged production.
This Baroque opera weaves the themes of passion and loyalty set in old Armenia, sung in Italian with surtitles. The clever staging of this touring production is dashed with hints of red, gold and orange against a dark background. The use of accents of colour with splendid costumes is visually stunning.
King of Armenia, Tiridate, is married to the devoutly loyal Polissena, strikingly resplendent dressed in red velvet and blue silks. The first act opens with a tender lament from Polissena; she is wise to her husband's lust for another woman.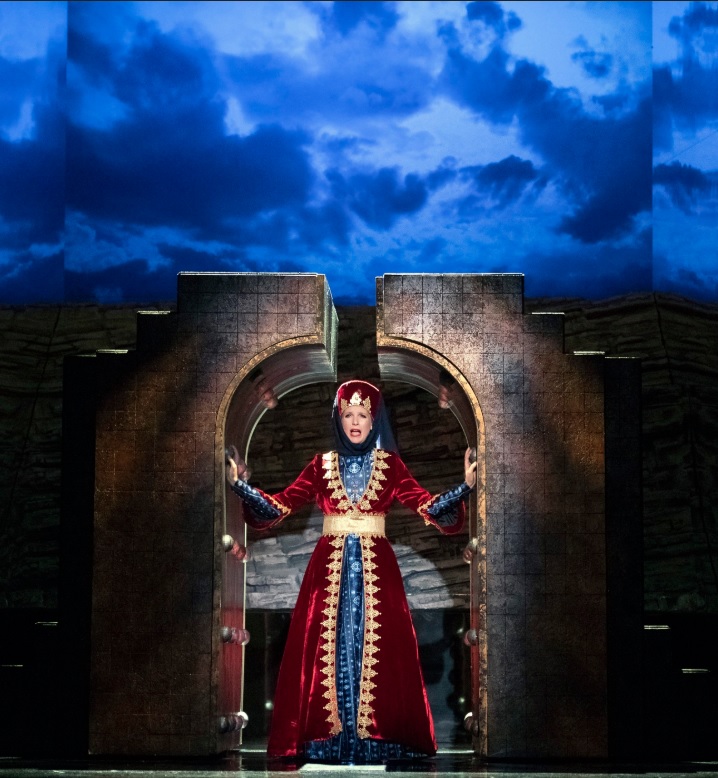 We quickly learn that her brother is the absent Radamisto and his wife, Zenobia, is the object of Tiridate's affections. To add to the drama, King of Thrace, Farasmane, the father of Radamisto and Polissena, is held captive by his own son-in-law.
Listening in and bearing witness to it all of this is Tigrane, supposedly loyal servant to Tiridate. In love with Polissena, we see the early duplicity of the story arc as he declares his own love for Polissena. This is carefully echoed in the use of black mirrors in the set design.
Brutality is evident in Tiridate's actions, early on he viciously tells Polissena to be silent, and tortures Farasmane with wonderful use of the stage. Radamisto's introduction is commanding yet empathetic. Katie Bray excels in a feisty performance as Zenobia, giving a sense of modernity to the character.
In complete harmony with the drama is the wonderful tone of Peter Whelan's small baroque orchestra. The delicate intricacies of Handel's music are skilfully played, combining masterfully with the singing of the cast of six.
Act 2 closes with Radamisto believing his love is lost, whilst literally on the rocks, leading to the aria 'Ombra cara' which is enthralling. William Trevor's countertenor voice is powerfully expressive and is simply hypnotic.
As the drama comes to ahead in Act 3, golden orthodox lamps suspend adding to the atmosphere. Gyeantey's Tigrane sings with a real honesty as he toys with his desires whilst Polissena starts a chain of events which leads to a form of resolution. The movement of this section is commendable; James Conway's direction throughout brings a real intelligence to the melodrama.
Skilfully presented, an enchanting production which fully highlights Handel's opera.
Reviewer: Cathleen ni Cier
Reviewed: 9th November 2018
North West End Rating: ★★★★★