A beautifully haunting look at the phrase 'home is where the heart is', Patch Of Blue's new actor-muso creation, 'When We Ran' explores what it means to be lost in a world you know and lost in a world you have yet to uncover.
From the creators of the international award-winning production, 'We Live By The Sea', Patch of Blue have once again excelled themselves in the art of storytelling, this time looking at the loving relationship between two sisters who flee their home in search of a life without limitation.
I was particularly keen to see this show, as last year's fringe production, 'We Live By The Sea' (which has since toured globally) was without doubt my pick of the fringe. With such a large reputation to live up to, the company do not fall short of anything other than brilliant with this production. With a live, original underscore throughout, these actors demonstrate their abilities in all fields and help to build a wonderful environment to find yourself lost in for an hour in the afternoon.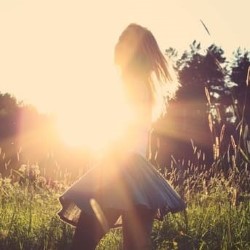 As mentioned earlier, I believe the greatest strength of this story is their truthful, heart-warming ability to construct and deliver a story and the combination of live music, projection and even a live painting throughout the piece truly make this show original and connect straight to the soul through the use of these different art forms.
Whilst the ensemble each add their own wonderful qualities to the piece, stand out performances include Alex Brain; a girl with a glorious gift I am incredibly envious of. Her ability to grab and connect with an audience is second- to- none and Brain has comic timing down to a T.
Lizzie Grace must also be congratulated for a beautiful performance. Grace's presence on stage is mesmerizing and with such a complex character, this actress is daring and brave and a dream to watch.
The original music by the company, alongside The Mason Brothers, George Damms and left me with tears in my eyes. The ensemble brought the score to life wonderfully.
With an actor-muso show, there is often a fear or the music taking greater importance over the acting, and whilst I did feel director Alex Howarth could have encouraged more bold decisions in some of the acting choices, I felt that the cast understood the importance of the story that their characters needed to tell.
This company have a huge future ahead of them, and a future that I will definitely be following. The production runs until 28th August at Beneath, The Pleasance Courtyard at 14:55pm and definitely deserves to be seen. Go, and allow yourself to join the journey of self-discovery and wonderful moments of breath-taking theatre.
https://tickets.edfringe.com/whats-on/when-we-ran
Reviewer: Sarah Gibson
Reviewed: 16th August 2017
North West End Rating: ★★★★