Ugly Bucket Theatre have stormed onto the theatre scene offering their own special style in clowning. They have won their fair share of awards winning The Holbeck Cup at the National Student Drama Festival, Best Production at Liverpool Fringe and most recently the Physical Theatre Award at GM Fringe 2019. Not bad at all!
I grabbed my opportunity to see them as having heard such good things I was keen to see what is was all about. If I were to describe the show to someone, I could only say, its like nothing you have seen before, or will see again unless you re-visit an Ugly Bucket production.
2 Clowns 1 Cup is based around sex education and our amusement of it. Let's face it we can all find certain subjects a little embarrassing or uncomfortable to talk about but not if you are talking about it dressed as a clown.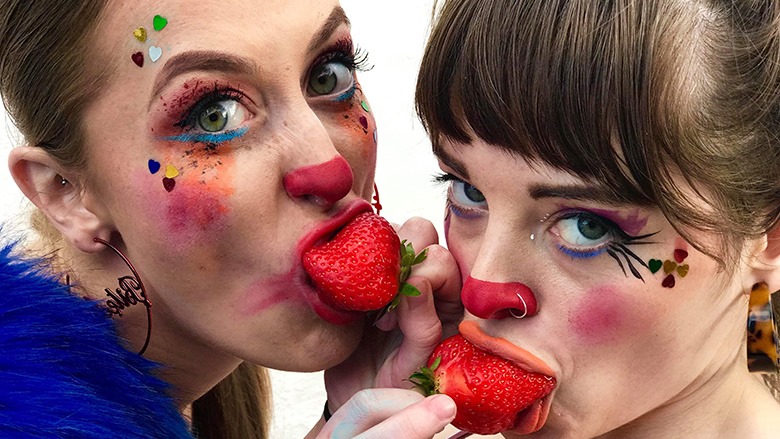 Cast your mind back to being at school age 13 and sex education classes, let's face it they were not particularly educational and most of the time the goofing around through embarrassment stopped you learning anything anyway.
You are about to be educated the Ugly Bucket way!
Through their own style of clowning they can broach such subjects as periods, porn, safe sex, and I will leave the rest to your imagination as I don't want to spoil the surprises.
The way the girls can weave together the different subjects is a joy to watch. Their comic timing is spot on and they use stellar music to give the whole show the beat to work with.
The room was small, hot and intimate and the crowd was putty in their hands as they hooted with laughter at what is one of the funniest shows I have seen for a long time. This show has been so well put together and thought out that I cannot fault it. The incredible imagination this theatre company has deserves all the accolades they have won. I am so pleased I got to see them perform and I only wish I had had time to see 'BOST-UNI PLUES', maybe another time!
Keep your eyes on this theatre company as they have got things to say. Their shows are not just about clowning around, they are well thought out pieces of theatre giving us their own opinion on relevant subjects.
Even though I left the theatre wet (it was so hot in there it was a relief to be honest), the hour-long show flew by and I can honestly say it was so hilarious, there was not a dry eye in the house anyway, from howling with laughter!
Go and see this show in Edinburgh or BOST-UNI PLUES (as I am sure it will be equally as good if this show is anything to go by).
To see this show you can book tickets online at https://tickets.edfringe.com/whats-on/2-clowns-1-cup. The show runs on 10th, 13th, 15th and 17th August. BOST-UNI PLUES is on 12th, 14th and 16th August 2019 at Greenside Infirmary Street, Ivy Studio.
Reviewer: Caroline Worswick
Reviewed: 8th August 2019
North West End Rating: ★★★★★