In this touching drama - following the friendship between two teenaged outcasts against the backdrop of a rural community in decline - You'll be dazzled as a full cast of characters is conjured via the contortions of the exceptional two person cast.
As the one hour performance begins, we are introduced to the Bobby (Will Howard) and Amy (Kimberley Jarvis) as we witness their torment at the hands of the various bullies that inhabit their West Country village - namely Slayer Slater and the hilariously observed and portrayed girl squad: 'The Goats'. As the two thirteen year olds deal with the persecution they undergo due to their innocent idiosyncrasies, a friendship of solidarity is established.
As the story unfolds, Jarvis delivers a metamorphic tour-de-force in the role of Amy and a multitude other characters including the gruff but loveable Farmer Rog and Amy's hideous, unfeeling mother.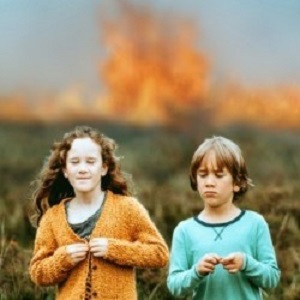 Amid a plethora nineties references, we track the development of Bobby, Amy and their relationship via the tribulations of rural and teenage life: the pair adopt a calf whose troublesome birth they witness and each get their first jobs in the village. The treatment the pair receive at the hands of the peripheral characters serves to define their lives further - from Bobby's troubled mother to Amy's sinister Uncle Ryan.
The highlight of Will Howard's performance is the skilful and sympathetic depiction of socially awkward detail savant Bobby - though there are many other successes in the multiple roles he portrays and the use of repeated exaggerated mannerisms provides clarity amid the whirlwind of character changes.
As the plot continues a series of catastrophes beset the community which shatter their quiet, remote world. Throughout, the narrative is punctuated by fast paced poetic sequences from Jarvis' Amy and lyrical forensic observational montages from Howard's Bobby. Although some uncomfortable personal and societal issue are explored or implied, there are regular snippets of comedic relief via physical and situational character comedy, which result in a highly entertaining work. As the community comes under pressure we witness the lead pair - bolstered by their relationship - rise to the challenges they face and gain acceptance and admiration from some of their peers.
The performances are augmented delicately with subtle lighting and sound effects supporting the actors to create a convincing impression of a variety of locations - achieved without set or props against a black curtained background. We are transported from the humble venue at the back of Pleasance courtyard directly into the lives and locations of the villagers.
Although there is much darkness within this tale - in the fate of the community and the malevolence of some of the characters - there is also much light - especially in the relationship of the central pair, who remind us of the enduring, symbiotic power of true friendship. You'll leave having been taken on a merry-go round of emotions and with great admiration for a production of multi-faceted excellence.
Reviewer: Col O'Kell
Reviewed: 22nd August 2019
North West End Rating: ★★★★