Say the name Pu Songling to your average run of the mill Edinburgh theatregoer and few bells ring. In East Asia the name is iconic and synonymous with folk tales. 'Strange Tales' adapted from Pu Songling's book 'Strange Tales from a Chinese Studio' brings these stories to a new audience as the first British stage adaption of the collection. The production is a heart-warming cultural exchange that draws subtle parallels between our cultures and heritage and celebrates the art of storytelling.
Produced with support from The Royal Shakespeare Company's Chinese Translation Project, Grid Iron's co-production of Strange Tales with the Traverse premiers these tales on the British stage for the first time. The eight selected tales in the production are taken from over 500 tales by author Pu Songling. They date from the Qing dynasty, yet funnily enough, they often have a resonance with our twenty first cultures, both in the east and west. And, despite their lurid and grotesque themes, these selected stories often warmly humorous and make a very good introduction to the author, indeed.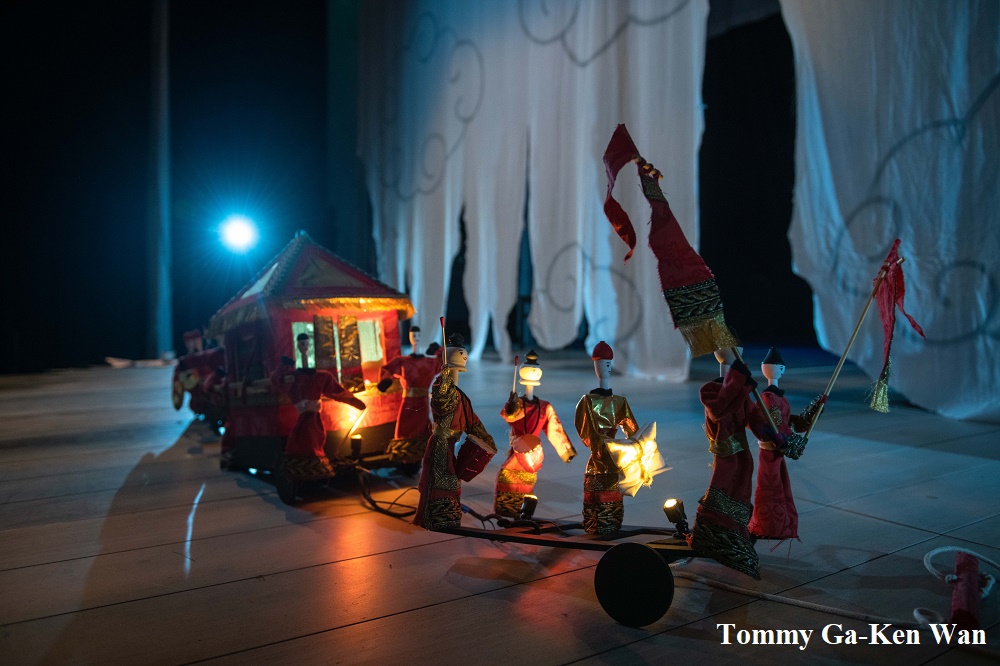 Brechtian in their approach, storytellers Luna Dai, Robin Khor Yong Kuan and Pauline Lockhart use of an armoury of artillery to bring these tales to life, with judicious use of storytelling, puppetry, physical theatre and even martial arts from black belt, Lockhart. All devices are creatively used, and impressive, especially the supporting video design by Bright Side Studios. The performers sweep the stage anew for each production, appropriate designed by Karen Tennent. Its versatility lends itself to subtle indications of time and place. The audience is even treated to some dazzling displays of illusionism, which leave them audibly aghast. The production is often a feast for the eyes.
Similarly, Kuan's use of physical theatre in his performance of 'The Big Sneeze' sees him using simple illusionism and puppetry, as he plays a man who sneezes out tiny and aggressive beasties. It's hilariously received by the audience, and is a well-crafted vignette that shows the 'confessional' nature of these tales. Joining forces with Dai, they perform some of the titular roles, in a twee fashion, yet often sympathetically. Meanwhile, Pauline Lockhart, storyteller and co- director serves as our cultural bridge, adding a little of Scottish stereotyping in the supporting roles, and drawing humour- from a manure eating witch, to a man from Paisley who miraculously finds himself in a monastery. It's a tasteful and well-used mirror that adds a little relative humour.
But while the aforementioned techniques are well employed, occasionally, the drama sadly de-rails itself or lacks the punch it is aiming for. It's a rough and ready approach, and while heart-warming, can often result in slow starts and cold responses from the audience. Some stories land better and are developed further than others. Regardless, others are triumphs. Yet, the storytellers work best when they're all on stage together. The Lotus Fragrance, a surreal dark tale about two spirits in love triangle who must team up to save the lover they've accidentally poisoned with affection is told with delightful flourish. It's a highlight for its surreal content and strong performances from all three storytellers.
Grid Iron and The Traverse present a series of tales never seen before on the British stage, and had it not been for this production and its support, perhaps would remain untold for years more. It's frivolous, comic, surreal and dark, and a pleasing introduction to a piece of our world culture everyone should be aware of. If you're looking for something truly different, this is it.
Reviewer: Melissa Jones
Reviewed: 3rd December 2019
North West End UK Rating: ★★★