'Back in 1988,' DJ Andy Joyce explains, 'four DJ's went to this island in the Mediterranean, found a club, a DJ named Alfredo and the rest is…' alluding to a time when the best underground dance music was played in a couple of small clubs until the sun greeted bleary eyes over the glittering sea surrounding The Balearics.
For several years after 1988 Ibiza was incredible but this production showcases what it became once the package-holiday mobs took over and the music moved into aircraft hangars that probably should have had something like 'Mecca' or 'Ritzy' scrawled over the entrance. The venue being the impossibly ornate McEwan Hall it should have felt special but despite the 'rave' lighting it felt sanitised and was difficult to become emotionally engaged with. Or shake off the sense that the centrepiece should have been a huge handbag. Clearly following the mantra every grizzled music industry veteran is happy to dispense - play the f****n' hit(s) - the set-list was composed of mainstream pop worn thin by constant radio play; interestingly, the biggest reactions were reserved for Faithless's 'Insomnia' and Underworld's 'Born Slippy' (but then this was Embra).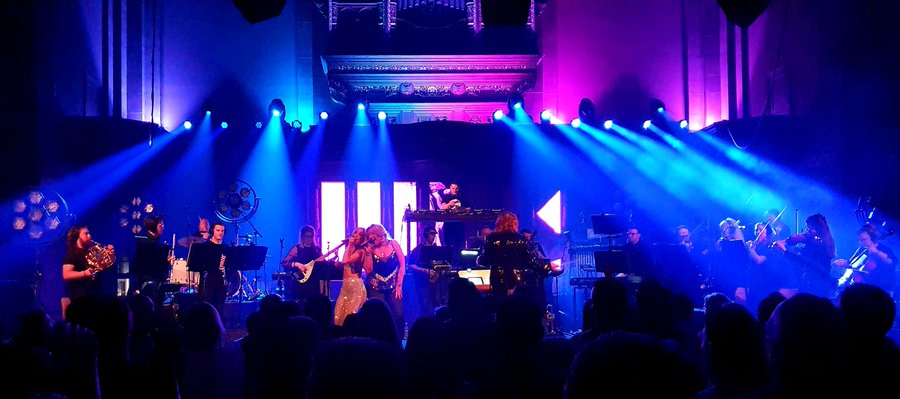 Other than these it felt like being stranded in the cabaret lounge of a cruise-ship. Or in front of the TV with your parents on a winter Saturday night in the 70's watching 'light entertainment'.
A warm-up set of some description might've helped because despite the griping tone of this review so far, it was GOOD, and clearly the result of some graft. Proceedings were opened by a piper (Lou Marshall), the arrangements and orchestration (courtesy of all-round musical genius Steve Etherington) were powerful, twas a joy to see real musicians playing and the overall sound quality difficult to quibble with. But the momentum faded two or three numbers in and despite the best efforts of vocalists, Beth & Jo, the relentless four-to-the-floor dynamic proved difficult to break up. With apologies to Ella F, Stevie W et al, 'It don't mean a thing, if it ain't got that swing'; this mostly went bang-bang-bang-bang. Also, the orchestra is a double-edged implement where this style of music's concerned; the presence of real strings was a gorgeous, giddy plus, but the horns (though excellently played) lacked the punch, dirt or grit of some of the original keyboard sounds.
'Bangers' being part of the modern lexicon for big tunes, not many seemed bothered and it's definitely a recipe that works. No doubt tourists in town for the Hogmanay Celebrations: Olaf from Oslo, Freya from Frankfurt, 'Stine from Stockholm and Pierre from Paris will have had a great start to their New Year's Bender.
And to end on a real positive; that haircut. James Last, eat your heart out.
Reviewer: Roger Jacobs
Reviewed: 30th December 2019
North West End UK Rating: ★★★