Antigone is as much a play about resistance as it is a Greek Tragedy. Scottish Dance Theatre's interpretation, 'Antigone, Interrupted', a devised performance, explores Sophocles' 'Antigone' through movement of the body. This is an apt choice for a play whose action is centered around the play's character's responses to a rotting carcass of a supposed traitor.
Teenage Antigone has been a figure of resistance, a victim of tyranny and a symbolism of humanism for years. It therefore makes perfect sense to rework Antigone in a performance focused on the body. 'Antigone, Interrupted' incorporates all the strongest elements of Sophocles' tragedy following the war of Antigone's brothers Eteocles and Polynices. It begins as 'Antigone' does with the new King Creon, Antigone's uncle, setting out to make an example of traitors by refusing to bury the body of Polynices.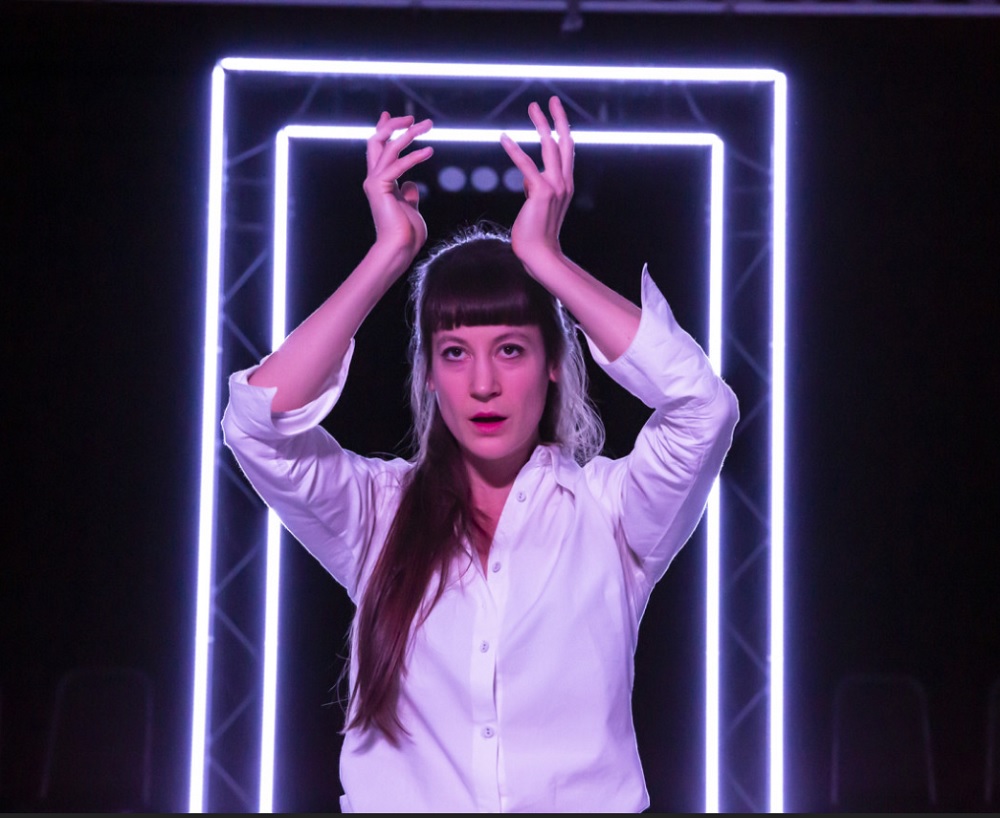 In response, Antigone, furious that one of her brothers will not have the burial he deserves resists Creon, even if it means death.
Told in the round, Solène Weinachter's leads this performance in every sense of the word. Weinachter is every character in the tragedy, every member of the chorus and entourage. As well as performing, Weinachter is also our audience member, soundscape and to some extent consciousness. Humanity exudes from her. She invites us inwards, into the world of the play, but also into the modern world, who continue to see and receive this play, even reflecting on personal experiences to guide us. She is an eloquent storyteller with magnetic presence, relishing in silences and letting us feel part of the story she is telling without causing us to feel uncomfortable. The audience reacts as they feel right. We trust her entirely.
Choreographed by Joan Clevillé in collaboration with Weinachter, movement drives the performances. Weinachter's performances of Creon, Ismene and Antigone are naturally delivered, intimate, and captivating, slipping from character to character within her body flawlessly; Weinachter really does embody the two opposing states of power and resistance so curiously. Movement interludes articulate the depths of these complex and opposing concepts. These feats of powerful physical expression are lighted beautifully by Emma Jones, so much so, that one does really sense the body of Polynices in the centre of the stage. Meanwhile Luke Sutherland's sound design wavers between the heaving of bodies of war to the roar of crowds in the centre of Thebes. It is stark yet masterful.
While many productions are often heavy handed in their allusions, 'Antigone, Interrupted' emphasises its strongest themes through an intelligently crafted journey that celebrates the prevailing humanity in times of upheaval. It's simple, effective, and most certainly a refreshingly different approach to this famous tragedy.
Reviewer: Melissa Jones
Reviewed: 20th February 2020
North West End UK Rating: ★★★★