It seems like every day there's outrage across our screens, some imbalance in our society pitching us into a battle over one imbalance or another. It may be colour; creed; ethnicity; gender; sexual orientation; religion: the list is endless and if I'm being topical, I could even throw Brexit into the mix: are you a Leaver or Remainer? So, given the heated emotions these exchanges create, how does one even begin to consider walking the tightrope of commentary without being lined up and accused of being anti-this or pro-that?
Once a Clown, written, directed, and produced by Murphy Rhodes, cleverly sidesteps these modern-day problematic trends by taking us into an alternate world where clowns are the minority in a world of 'Normals', and where their only aspiration is to live, well, an average life: I mean they can't be normal, can they?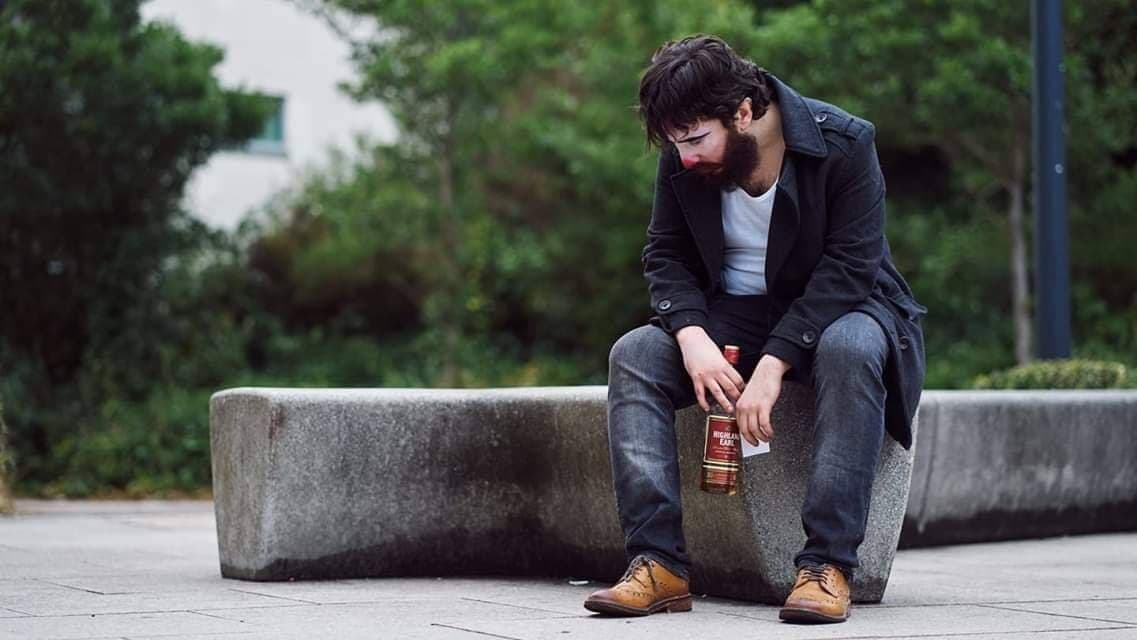 They don't have to be full of joy either and it's certainly no laughing matter as we meet clown Richard Plews (Murphy), a divorced father of one, whose frustrations are unhappily spinning out of control as he battles against the inequality he meets in every aspect of the everyday as well as his own inner mental demons – fuelled by alcohol and drugs – tearing him apart.
Are these daily toils of one's own-making or because of who you are? How far would you go to right a supposed wrong? Is it the 'Carnivale' style terrorism seeking justice and assimilation, or would you turn your back on your own kind to integrate and become normal?
At fifteen minutes in length, Once a Clown covers many angles through its unique perspective with a supporting cast (which includes Laura Cotter; Barry Moran; Joe Welsh; Tom White amongst others) complementing the journey from which you want to turn away but you can't; at which you want to laugh – I mean it's clowns after all – but you're closer to crying. With any luck people will cry out loud after seeing this film and begin to challenge the hypocrisy and stereotypical prejudices that are far too common place: we need to break the silence.
Director of Photography Ben Chan perfectly captures the tears of this clown whilst Sound Recordist James Burgin sensitively records his cries. The Make Up and Special FX camouflage from Xenia Patterson is peeled away scene by scene to expose the loneliness and turmoil of a world where nobody laughs anymore. Sound familiar?
Once a Clown is scheduled for full release later this year. It is currently shortlisted for the Lift-Off Global Network Sessions 2019 and First-Time Filmmaker Sessions 2019. A trailer is available to view at https://www.facebook.com/onceaclown/
Reviewer: Mark Davoren
Reviewed: 16th March 2019
North West End Rating: ★★★★