Gobby is a new one-woman show, written and starring the talented Jodie Irvine, who previously appeared in Notflix: The Improvised Musical.
The protagonist is called Bri. "As in the cheese, except it isn't because there's no "E". It's short for Brioni but no one calls me that." She talks a lot and she talks loud, which earned her the childhood nickname of "Gobby". The play is based around five parties, which allow Bri's story to unfold. She is recently out of a mentally abusive and controlling relationship, which has affected her more than perhaps she is aware.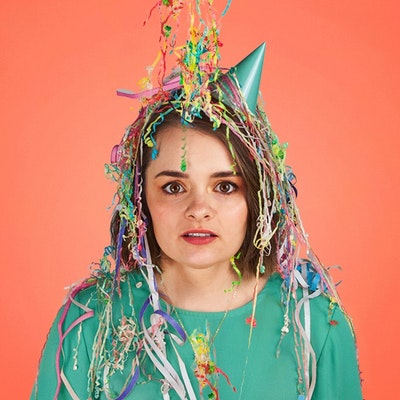 A banner states, "IT'S A PARTY" and dance music is playing. Bri dances awkwardly, blows up balloons and welcomes guests. She tries to be effervescent, but is clearly somewhat self-conscious, because she's the host. She craves recognition and affection from a group of peers but is crushed when they ignore her and leave early. She is later overjoyed when they invite her to their murder mystery party, only to be crushed again when she finds out she has been selected to play the corpse: the ultimate insult.
The writing contains keenly observed moments, the minutiae of life, all the small things that are inconsequential, but actually really DO matter, such as a broken bracelet that is special because it changes colour with your mood. These details resonate and help to really establish the character.
Jodie's performance is naturalistic, her comedy timing is perfection and she is never less than captivating. She utilises "party props" effectively with hilariously consequences: a balloon with a hastily added party hat becomes a man at a party; two party hats held together become a cocktail shaker and a party whistle becomes an impromptu moustache. These visual comedy touches are pure genius.
Gobby is a bittersweet tale. The humour is laugh out loud at times and the introspective moments are handled sensitively, but for me it is slightly overlong at an hour; I feel it would have so much more impact if it was tighter and slightly shorter, but that's just my opinion. Although there is a very serious subtext, it was the comedy moments that shone, because the humour was well-written and clever, and Jodie Irvine absolutely sells it.
You can see Gobby at the King's Arms, Salford on Saturday 6th July at 6pm. https://manchesterfringe.eventotron.com/?event=34407
Reviewer: Gray Freeman
Reviewed: 5th July 2019
North West End Rating: ★★★★