This show is presented as five short plays but it is actually two pieces of writing split into alternating sections: "Fifty and Nifty" written by Beverley Green and "Remembering Mavis Dixon" written by Andrew C Husband.
Fifty and Nifty
Imagine a hybrid monster of Hyacinth Bucket, Kitty (from 'Victoria Wood As Seen on TV'), Pauline from 'League of Gentlemen' and Marjorie from Fat Fighters ('Little Britain') written in a Victoria Wood style and you will get the gist of the lead character, Marjorie Pardoe.
I laughed my socks off at Marjorie from the word go. She is a horrendous woman! She runs the so-called self-help support group which is "50 and Nifty" ('leading you through the minefield of your 50s') - although there is no support and certainly no help.
Marjorie's idea of being in your 50s is to resign yourself to cardigans and decaffeinated beverages ("because the less stimulation, the better"). She is the Queen of Put Downs – none of which I will repeat as it will spoil the impact but trust me, they are hilarious and had me crying with laughter.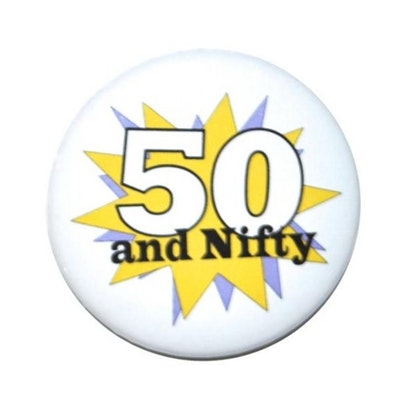 This play is split into three sections: each one being another week at "50 and Nifty" - where the humiliation, ridicule and ritual belittling by Marjorie only seems to increase.
The humour is cutting and hilarious. Beverley Green herself plays Marjorie and she is absolutely outstanding. I loved her facial expressions: she seems to wear disapproval and disdain permanently and she could win an award for her ability to suck self-confidence and happiness out of a person in record time. Every word that comes out of her mouth is pure acid. She is constantly disapproving, impatient and well, just awful!
I must mention Barry (Scot Worsfold/Stephen Whitfield – I'm sorry I don't know which one of you was playing that role today) and Rona – the hilarious couple who realised they'd gone too far when they attempted street dance, not to mention cherry red chinos and wearing leggings on a daily basis. I thought they were brilliant – so funny and natural.
The writing is witty and clever, and the humour is continuous. There was a small part of section 2 which I felt lost a bit of energy and was slightly flatter than the preceding section but this didn't last and the third section was firing on all cylinders with Marjorie receiving some belittling herself – although it didn't seem to deter her!
I very much enjoyed this production; it really will have you crying with laughter. I would love to see more of Beverley's work.
Oh, and if you're 50 of over, remember: "do up your top button, nobody likes mutton"
North West End Rating: ★★★★
Remembering Mavis Dixon
Written by Andrew C Husband, who plays one of the two characters, this is a play in two short sections about a father and son. The Father, Roger, is in a care home. Howard, his son, visits weekly but the strain between them is evident.
Howard (Andrew Marsden) has grown up believing his father to be a serial womaniser which has affected his opinion of and relationship with his father.
Roger (Andrew C Husband) knows more about Howard than Howard gives him credit for and this becomes apparent in the first section.
In the second section, a year has gone by and clearly something very significant has taken place between them both, resulting in Howard not visiting his father for a long time. This culminates in an angry and emotional confrontation and I thought the acting and writing in this part was excellent.
Unfortunately, I found the dialogue in the first section to be a little stilted and forced and not entirely believable. The flow of conversation didn't seem entirely natural to me and as far as the characters are concerned, there was quite a big revelation for one of them, but it seemed to pass with very little reaction when in reality, it would have been quite a big milestone.
However, I felt things picked up in the second half where there was a lot more emotion and frustration on the part of both men. I liked the way it was paced: it held my attention and I really wanted to know what had happened to cause the distance between them and the cruel way that Howard was treating his father.
I think the writing in this play is at its best when the characters are expressing strong emotions, but I feel the everyday conversation between them is lacking something.
Fifty and Nifty and Remembering Mavis Dixon are showing at The Moston Miners Arts Centre on 14th and 27th July at 6.30 pm https://manchesterfringe.eventotron.com/?event=37871
North West End Rating: ★★★
Reviewer: Nicky Lambert
Reviewed: 6th July 2019