It's 1999: the dark years when Doctor Who was just a cancelled TV show. It has been out of regular production for a decade. Kasterborous is a fan convention, and it's being staged in Bolton. (Kasterborous – as you'll know – is the constellation in which Gallifrey, the Doctor's home planet, is located. If you didn't know that, you need to get out more. Or rather – if you DID know that you perhaps need to get out more. I did know, so need to get out more, hence attending GM Fringe.)
The play is written by Jonathan Hall, who loves Doctor Who and claims this play is a love letter to the show. He is clearly a long-time fan and the play is littered with references and in-jokes. It even opens with the iconic theme tune – a classic version, not a Disneyfied modern take like we have to sit through now – which really gave me the feeling that it was 5.25 on a Saturday again.
We meet the characters backstage at the convention. The professionals: jaded, alcoholic scriptwriter Dominic Holland; faded, typecast actress, Jenny Carpenter, who played the Doctor's screaming assistant, Sally Anne Briggs. The fans: enthusiastic convention organiser, Jason; obsessed uber-fan, shopping bag toting Alan. The cast are incredibly convincing and utterly compelling. There is weary cynicism from the "stars" and boundless excitement from the fans.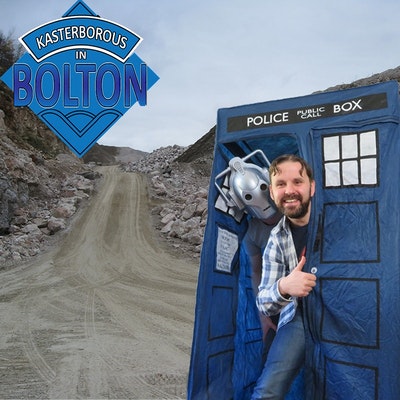 The parallels between Sally Anne Briggs and Lis Sladen's Sarah Jane Smith are undeniable and surely intentional, but it was a rather cruel depiction of a much-loved character and much-missed actress. To be fair though, for Lis Sladen at the time, Doctor Who was just a job: she did the job, then she moved on. Except she didn't – and she remained Sarah Jane Smith on the convention circuit, in audio adventures and eventually in her own spin off series, right up until her untimely death.
Meanwhile, back in Kasterborous, Lesley Molony plays Jenny Carpenter, who played Sally Anne Briggs. (Are you following? Only one of these people is real.) Lesley is an accomplished actor and a pleasure to watch. With ease she exudes professional patience, while failing to understand the lure of the programme and resenting its domination over her career. She plays a multi-faceted character, in that behind the scenes she is cynical, in public she is warm and full of praise for the show and her co-stars, she harbours a desire to be taken seriously and shamelessly tries to promote her forthcoming role as Macbeth. Dominic Holland is washed out, swigging from a hipflask. He seduces organiser Jason in a well-played but shockingly hilariously cheeky sexual scene.
Jason and Alan, both fans, couldn't be more different. Jason is educated and intelligent, writing a thesis based around the morality within Doctor Who. Alan is obsessive and has an autistic-like knowledge of the show, intruding backstage and unable to control his excitement. He is endearing and incredibly well-played, a sensitive performance which is both authentic and comedic. In a touching moment, he tells that he loves Doctor Who because it takes him back to family times, when he sat with his mum and dad and they watched it together. Simpler times, when a rather cheaply made television programme brought families, generations and indeed society together. It was the most honest and moving moment in the play and I think everyone in the audience could relate to it.
The constant references to Doctor Who's history keep this bubbling along. The characters perhaps learn something about themselves, but this is really just a day in the life of a weekend Doctor Who convention. I thought it would be overlong at 70 minutes, but I was entertained for the duration. If you don't like Doctor Who, many of the references and in-jokes will be lost; if you do like the show then make time (and space) to see this. There is one final showing on Thursday 11th July, 9pm at the Kings Arms, Salford. If you have access to a Tardis, you can experience the previous shows as well. https://manchesterfringe.eventotron.com/?event=36607
Reviewer: Gray Freeman
Reviewed: 10th July 2019
North West End Rating: ★★★★