This is the second play written by Libby Hall. Her first outing as a writer was at last year's Greater Manchester Fringe Festival aged just 16 when she wrote 'Thing We Tell the Hours After Midnight'. This play was so good that Libby won the Best Newcomer Award 2018 at the GM Fringe Festival. She is now Writer in Residence at Salford Arts Theatre and brings us her second play 'The Melting of a Single Snowflake'.
The Salford Arts Theatre have helped to nurture Libby's writing talent as they help to inspire other young people to take an interesting in all aspects of performance. Their Young Performers Company has an age range of 7-18 years old and their commitment to this resulted them in receiving the Best Ensemble Award 2018 at the GM Fringe Festival.
After last year's bumper year, they have staged another interesting and thought-provoking production.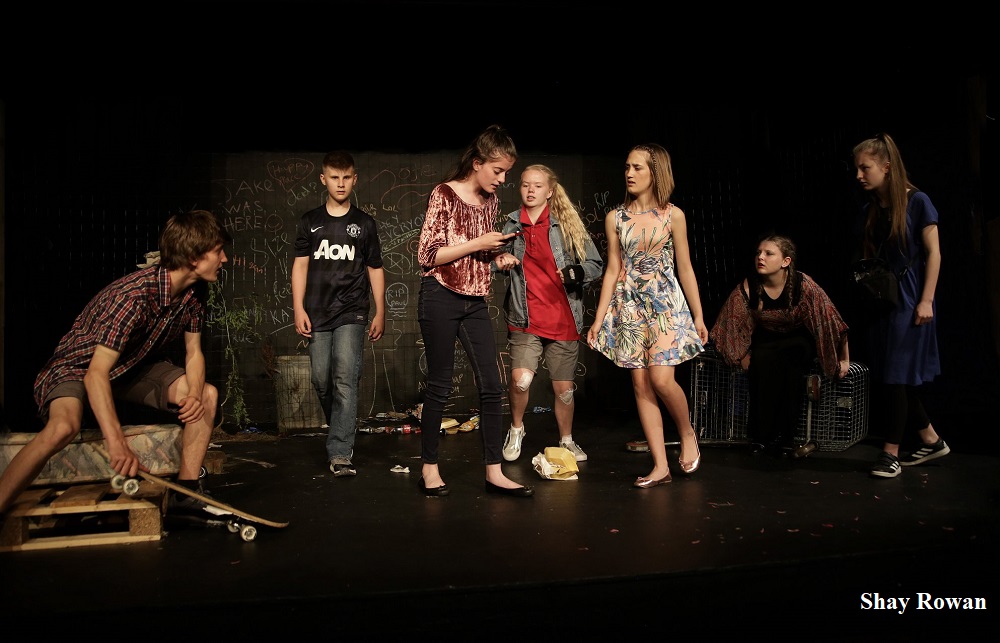 Sam has gone missing! Sam is a schoolboy who like many boys of his age, has mates who he shared banter with and sometimes sailed too close to the wind with his taunting. He had a secret girlfriend Kay (Calia Wild) who he had discussed running away with and Amber (Sienna Kavanagh) thought he might fancy her. During the summer holidays this mixed group of adolescents try to work out what has happened to Sam and why he would want to run away. Each child in turn has their own problems and through the character development we hear about drug dependency, grief, friendships and the need for social acceptance.
The script shows that Libby and Salford Arts Theatre are not afraid to tackle challenging issues and the performers did well to show the fear and emotion needed for such a script. To help to balance the serious subjects being covered in the play there was an infusion of comedy weaved into some of the characters which helped to give the audience some lighter moments.
The set was well thought out, even though this was a large cast, the stage never appeared to feel crowded which also comes down to the play being well directed (Roni Ellis) and assisted by Libby Hall. The sound needs a little fine tuning, but I am sure that is easily sorted out, there were gaps between the pre-recorded material and the play resuming, only a minor thing to tighten up on.
Overall, I feel all involved can congratulate themselves on a job well done! Libby Hall has produced a well written interesting script and I am sure if she continues in this vain, she will be a budding playwright of the future.
The play runs from 17th July 2019 to 19th July 2019. Tickets can be bought online from http://www.salfordartstheatre.com/whats-on
Reviewer: Caroline Worswick
Reviewed: 17th July 2019
North West End Rating: ★★★★