Juliet Meyers is a writer and stand-up comedian by profession, having written for Sarah Millican and 8 Out of 10 Cats. Juliet is bubbly and warm and connects instantly with the audience. Her comedy is well-observed and genuinely funny. But enough about the considerable talents of Juliet; her rescue dog, Homer, is in attendance. He has fox ears and "puts me in mind of a latte". Homer is a Portuguese podengo medio, "which makes him sound like a hatch back". He is friendly and stunningly handsome.
Juliet starts off saying "Cheer if you've got a dog!" (Cheer.)
"Cheer if you haven't." (Slightly less stressed cheer.)
"If you like cats you might be at the wrong show. Andrew Lloyd Webber wrote a musical for you."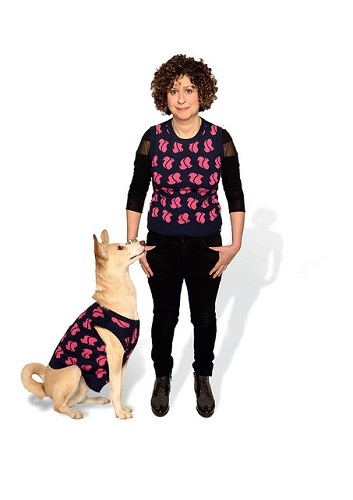 But no one is at the wrong show. Whether you like dogs or not, the humour transcends the subject matter. As Juliet speaks, Homer wanders around the audience (literally) shaking hands with his public. He is very relaxed and seems to be thoroughly enjoying the experience. He is so at ease that he later curls up on the stage and goes to sleep.
Along with his brother and sister, he was found abandoned at fifteen days old, outside a vets – in Portugal. Juliet adopted him three and a half years ago. She tells of the trials and tribulations of having a dog, the unconditional love, the separation anxiety, the neediness.
It is a mix of personal anecdotes and clever canine politics, touching on the subject of neuticals (you'll have to Google it!) the elitism of Crufts, the constant weeing. "He wees on everything. He's young and it's a very powerful wee! He weed on a friend's drive and did fracking!" And the ludicrous things people say: "Ah… did you want a child?" and "Is he adopted?" "I say No... But he looks a lot like his dad." And "Yeah, he's a bit like a Russian prostitute."
Juliet has a very comfortable and relaxed delivery style. As she's talking, it feels like she's chatting comfortably and telling you things for the first time, which is the mark of a good comedian.
She reveals a set of headbands she has bought: she slips hers on: DOG OWNER. Homer – a consummate professional – sits patiently, head raised, waiting for his own headband to be put on him, which reads: YOU DON'T OWN ME.
Juliet Meyers is naturally very funny anyway, but talking about Homer and having him on stage with her is just the icing on the cake. I laughed all the way through. I could relate to everything she said, apart from a comment about artificial dog hormones affecting her periods. She is refreshing and joyous. It was riotously funny, completely relatable, a feel good show with an added Homer bonus. This is not a show you want to miss. Heart-warming and hilarious!
You can catch Homer… and Juliet will probably be with him… at the King's Arms on 19th July. https://manchesterfringe.eventotron.com/?event=37294
Reviewer: Gray Freeman
Reviewed: 18th July 2019
North West End Rating: ★★★★★