Anyone who wasn't around in the 1970s probably won't understand the thrill of fear and excited anticipation of watching a Hammer horror film late on Friday or Saturday night. The Hammer and Amicus productions were classic British horror and in my view, cannot be surpassed by any of today's cinematic offerings.
Tonight's show is a spoof from start to finish, involving a 'screening' by the Sinema Society of the long lost Anvil Studios' classic horror film "Mistress to the Midnight" which has been rediscovered after being lost for sixty years. The three 'surviving members' of the Sinema Society introduced the film with geeky enthusiasm (and cagouls).
The storyline of "Mistress to the Midnight" is one which would have done Hammer films proud: a keen young lawyer sent to a foreign country to assist the mysterious (and quite insane) Madame Zossolov. There is a recurring narrative of him reading aloud his letters to his fiancée and it becomes clear that all is not as it seems... Slowly but surely, the young lawyer discovers the horrible truth of what dwells in Madame Zossolov's cellar...and a suitably dramatic and climactic ending to the film ensues. What I also liked was that the ending didn't just descend into non-sensical farce, it was credible with a little bit of an added twist...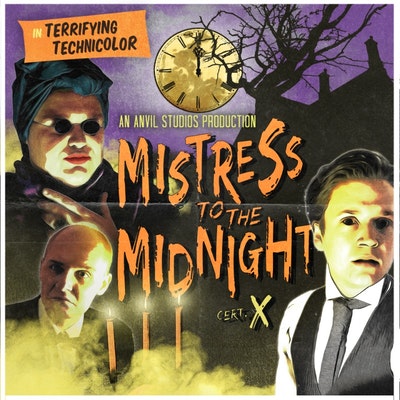 The whole show is a spoof and it is exceptionally well done with a laugh in nearly every line. The humour is a mixture of quickfire wit and silly laugh out loud moments: I absolutely loved the line about "illegal back street slug racing...it's just finished". The location for the story is a Chateau...called Chateau Mapants (as in 'my pants'). So many hilarious lines unfolded from that: "I have to escape Mapants", "I'm sleeping in Mapants", "not all is at it seems in Mapants".
The humour is silly but it's well crafted and effective without being over the top and too studenty. Unfortunately, I think much of it was too quickfire for some of the audience who seemed to miss a lot of it and I felt it was underappreciated and deserved a better response.
The three actors: Jack Robertson, Jacob Lovick and Joel Heritage were unfalteringly brilliant. They each assumed various roles, switching with ease from one to the other and although this is a spoof and by nature, silly and quite ridiculous (in a good way), their acting was fantastic and it was very clear that they have worked extremely hard to produce this slickly performed show which deserved a much larger (and more appreciative) audience than it got tonight. Their comic timing was of a professional standard, as was their overall performance. Some of the humour and characterisation did put me in mind of The League of Gentlemen but they definitely have put their own stamp on.
There was no set to speak of and no props but it didn't need it. The eerie accompanying soundtrack and the imaginative direction did the job perfectly and I think a lot of the fun and humour would be lost if they added anything else to it.
I really loved the fact that this was an affectionate homage to that wonderful era of classic British horror. It was a well-studied tribute with the addition of fantastic comedy which made it a fabulous hour of entertainment.
This is a gem of the GM Fringe and you'd have to be insane to miss the first screening in sixty years of 'Mistress to the Midnight' when it receives its premier screening for the first time ever on Saturday 20th and Sunday 21st July at The King's Arms. https://manchesterfringe.eventotron.com/?event=29525
Reviewer: Nicky Lambert
Reviewed: 19th July 2019
North West End Rating: ★★★★★