'Revolt. She said. Revolt Again.' is a feminist call to action exploring the expectations and pressures that women face in the 21st century and raising questions of the limitations women face in the workplace, marriage, and language. Alice Birch's fierce, playful, not well-behaved original play has been adapted by Blue Sole Productions - an extremely apt fit for all-female company Blue Sole Productions' debut performance. The female voice was also made prominent through the pre-show exhibition 'An Ode to the Female' showcasing poetry, articles and artwork from emerging female creatives.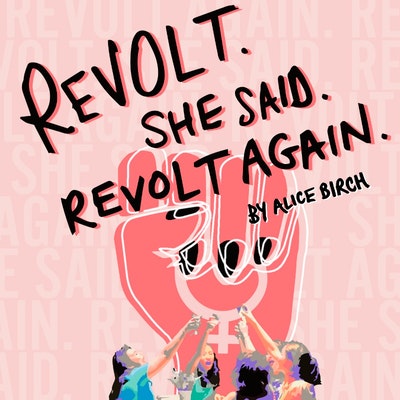 The contemporary play was given a twist with the performers taking on a 1950s "housewife" look with their dresses and hairstyles. This highlighted the level of perfection the women were expected to achieve and showcase at all times. The narrative followed the women putting on this façade of perfection broken up by interludes of stories of their truly imperfect realities. The heightened contrast of what is expected of women versus what is realistic and practical was extremely effective and thought-provoking.
I would hasten to state that this play is not just for women and despite the serious subject matter it was extremely fun; it was truly enjoyed by all with so many comical moments. There was in fact a surprise male cast member (a surprise for him too) who provided great entertainment.
The Joshua Brooks theatre provided a small, intimate space which was perfect for the setting of the show, enhanced all the more still by the performers "breaking the fourth wall" and interacting with the audience, with the "stage manager" making reference to the fact it is a play throughout and breaking the reality.
The four main actresses: , Sally Toynton, Adelaide Hitchinson and Sara-Robyn Pang gave fearless performances throughout. Their strong, committed portrayals showed a wide emotional capacity and vulnerability. Hanna Jones supported the women with her "Stage Manager" role, and the whole company gelled incredibly well together with everyone having a moment to shine. They seem to have mastered the balance between intensity and comedy wonderfully.
Brave and daring - an innovative reimagining of an already clever play. Blue Sole Productions, founded by Eleanor Herbert, is a new, emerging all-female theatre company set up with the sole intention of providing a platform to explore and promote the work of emerging female creatives. If this is the calibre of work they are producing then we need to make sure we are supporting them. 'Revolt. She Said. Revolt Again.' is on as part of the Greater Manchester Fringe Festival at Joshua Brooks on 25th and 27th July at 7pm – you don't want to miss it! https://manchesterfringe.eventotron.com/?event=38540
Reviewer: Becky Mottershead
Reviewed: 23rd July 2019
North West End Rating: ★★★★★