Tom Mayhew is an award-winning stand-up comedian; he won The Comedy Store's King Gong in 2016, when he drifted on stage from the audience and performed an impromptu set. (You can watch this performance on his website.) The thing that struck me then, was his awkwardness, not just because he might be nervous, but because he seemed ill at ease in his own skin. I thought it was a stage persona and one which I felt worked incredibly well and endeared him to the audience.
Meeting him tonight though, I was surprised to find he is now far more confident and self-assured, which is understandable, as he's been highly ranked in several comedy competitions and has worked on BBC Radio, so he's obviously getting it right. (To be honest, I was a fraction disappointed in this new-found confidence, because it meant I was back to my usual position of being the most socially awkward person in the room.)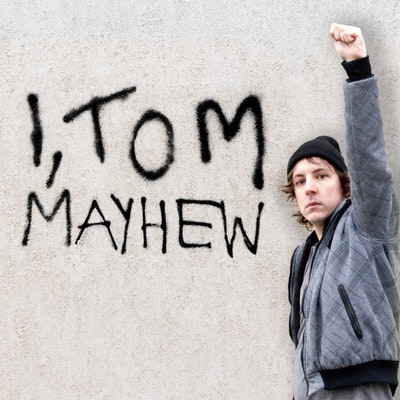 I say "room", but this was the Vault beneath Salford's King's Arms pub: cold, creepy, stone flagged – basically a whitewashed cellar – which is an odd but adequate venue for Tom, to try out his new material. This is a work in progress, so he may glance at his notes, add a tick to a joke that really worked or a cross to a joke that bombed. I don't think anything fell into the second category.
They always say "write about what you know", so He, Tom Mayhew, currently in his mid-twenties, has wisely fashioned his show around the theme of his life so far, principally leaving school, being unemployed for three years, the joys of signing on and then his first job at Sainsbury's. Stand up is now his full-time career and it's his dream job.
He is from a working-class background, where times were hard and money was scarce. Refreshingly, he admires and respects his parents and still lives with them. One of the benefits of getting his own place would be: "Not seeing dad's bum every day." He tells us he has a girlfriend, who he unashamedly loves to bits. She is the producer of the show and their relationship has apparently hugely boosted his confidence. (So that explains it.)
Being up-close in a small venue could be uncomfortable, but Tom was easy going and I think everyone felt connected and was rooting for him. As an audience member said after the show, he is "irritatingly likeable".
He touched on the diverse subjects of Christianity, pansexuality, self-esteem, mental health and supermarkets, but mainly unemployment. He likes football: "…because it gives me something to talk to the older generation about... Because I don't like cars and I'm not a sexist."
He only very occasionally glanced at his notes and once or twice asked for an opinion. His comedy style is largely social comment and observational humour – and very personal. There is also some biting political satire and a bit of surrealism. His material is heartfelt, genuinely funny: I laughed a lot. But really, he seals it because he is a likeable character. The wrong person telling the right jokes, wouldn't work, but Tom is warm and personable and brings personality to his material.
It was interesting to see the show in a raw state and get a glimpse of this rising star. You can see this Work in Progress at the King's Arms on 25th July. https://manchesterfringe.eventotron.com/?event=30835
His next stop is the much-celebrated Edinburgh Fringe. Although this isn't yet a finished product, but a Work in Progress, it's a five-star show waiting to happen.
Reviewer: Gray Freeman
Reviewed: 24th July 2019
North West End Rating: ★★★★ (work in progress)