There's a lot of it about at the moment – drag. Ru Paul this and S.O.S that so it's welcome to see the extension of drag performance into female impersonation in this 60 minute canter through the rise of la Midler
What makes this a cut above the ordinary is the form and substance of the piece in that it has narrative and a performer who knows his stuff.
Of course in 60 minutes, there has to be compromise in the material used and this is my main criticism of the show. Between the first part and second, Mr Booth acknowledges we move on 40 years, but that 40 years contains a couple of outstanding moments in Bette Midler's story.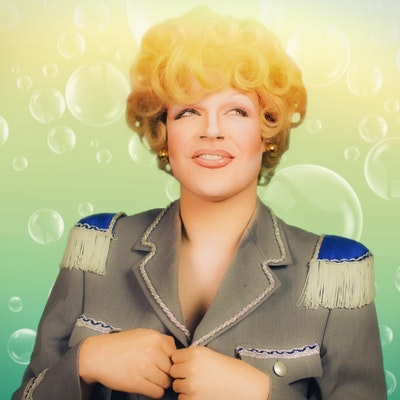 Her first Broadway show "Fiddler on the Roof" and the one that stands out, her made for television movie of "Gypsy". Mama Rose is the meat and drink of many female impersonators and there was room for her here maybe in place of Bette Midler's tribute to newer female performers. I keep coming back to 60 minutes because whilst it is just long enough for the highlights it's not, in my opinion, long enough to include Madonna and Beyoncé et al. On the other hand, a highlight of the performance was the selection of 'Soph" stories delivered with all the speed of the manic Bette Midler.
Jonathan Booth is clearly a performer who knows his art. His impersonation of Miss Midler is not exact but close enough to allow the viewer to enjoy the subject. He has an ease with an audience who readily engage with him and he renders a selection of songs from the jolly to the sad all with equal quality. Musical accompaniment from Barry Maniblow (yes I checked the spelling if not the real name of the talented pianist) was another highlight.
In the words of the diva herself, this really is sleaze with ease!
Reviewer: Philip Edwards
Reviewed: 28th July 2019
North West End Rating: ★★★★